Feast Dinner Theatres Present "Baby It's Cold Outside"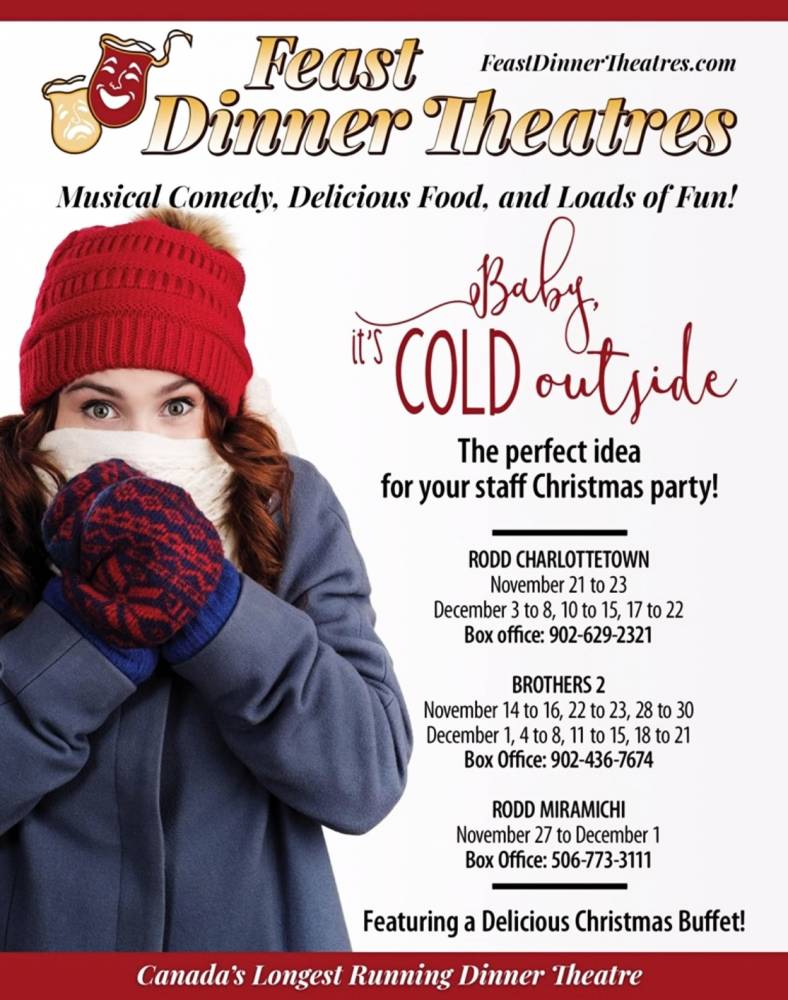 From Wednesday, November 27th, 2019 to Sunday, December 1st, 2019, come out to the Rodd Miramichi River Hotel, 1809 Water Street, Miramichi, to see Feast Dinner Theatres Present "Baby It's Cold Outside".
Unwrap the warmth and cheer of Christmas with Baby It's Cold Outside
Ring in the holly jolly season with a gift that keeps giving laughs, Feast Dinner Theatre.
The latest Christmas production called 'Baby It's Cold Outside,' penned by Feast veteran Aaron Ellis, is about a journalist trying to break a local front-page newspaper story with the help of her boyfriend.
But the duo venture into an unfamiliar and challenging environment, set with the backdrop of an annual televised raffle. With all the ingredients of the yuletide magic, will the Grinch appear at this commercialized live studio event to snub the raffle gifts and joy? Bah, as someone once said, humbug.
"Aaron has written a very special, light, and funny seasonal show with a lot of heart. There will be witty jokes, heartfelt moments, and a few surprising twists that will leave the audience fully satisfied and not just from the traditional Christmas buffet served during the evening," said Aitken, the music director.
The show features a Christmas buffet, complete with oven-roasted turkey, ham, stuffing, fresh seasonal vegetables, and a delicious dessert.
"This will be my seventh season with Feast Dinner Theatre, so that's roughly 300 performances. I feel I've come to understand what works and what doesn't over the years as a cast member and taking the reins as the music director for this production feels like a natural progression," he continued.
Perfect for Christmas staff party, a family outing for young and old, a special date, or just a night out with friends – this Feast production is unlike any other.
"Feast is more than just a three-act musical comedy, there is no fourth wall. This is a universe for the audience to step into and be able to interact. Charlottetown, Summerside, and Miramichi are in for a treat," said Aitken, who has spiced up classic Christmas songs that will hit all the right notes.
Ellis said he shines the light on the spirit of the season.
"The audience can either go home with a cash prize or leave with something secondary and terrible, but everyone gets into the seasonal spirit at the end. Expect lots of Maritime and Prince Edward Island references too," Ellis said, who was promoted as a Feast cast member after 425 shows to a playwright.
"I've seen so many scripts and different writers over my eight years with Feast and that has helped me learn what works well with the audience; where the climax should be, plot twists, and music cues," he said.
"Ben is an incredibly talented musician and I have confidence in his direction for the singing and instrumental numbers in the show. We are good friends, and this has helped with the final touches to make this a very special Christmas production," concluded Ellis.
Brothers 2 Restaurant in Summerside, Prince Edward Island kicks off the show from November 14th to December 21st. Rodd Charlottetown in Charlottetown, Prince Edward Island is November 21st to December 22nd, and Rodd Miramichi River Hotel, in Miramichi, New Brunswick is from November 27th to December 1st.
All shows are on select dates.
To book call 1-902-436-7674 (Summerside), 1-902-629-2321 (Charlottetown), 1-506-773-3111 (Miramichi)
Ticket Prices for Christmas 2019 – "Baby It's Cold Outside"

Weekend Prices (Friday and Saturday) – $66.05
Weekday Prices (Sunday through Thursday – $63.41
Groups with 10 to 30 – $60.76 / per ticket
Groups with 31 to 60 – $58.12
Groups with 61-90 – $55.47
Box Office
Charlottetown – 1-902-629-2321
Summerside – 1-902-436-7674 Miramichi – 1-506-773-3111
OR… buy online by going to www.ticketwizard.ca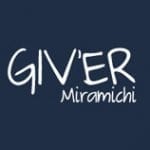 Giv'er Miramichi is about "What's up, what's new, what's happening". We are focused on building people up, supporting one another and celebrating our successes.