Get Published in Giv'er Magazine!
Submit to Giv'er Miramichi Magazine
We're looking ahead to Fall… and yes… Christmas!
MCG Media wants to help you promote your event, organization, good news story, poems, photography and more!
Giv'er Miramichi Magazine: We're looking for events, stories, celebrations, recipes, photos, poems, fiction writing, and articles of local interest about what's up, what's new, and what's happening on the River!

Upcoming Issues and Deadlines:
Fall Issue: Deadline September 13th – distributed October 8th
Christmas Issue: Deadline October 18th – distributed November 19
Email your submission or any questions you might have to . 
Written submissions should be 250 – 500 words.
Photo submissions should be high-resolution photographs. Also include the photographer's name for the photo credit, and any relevant information such as the location, event, names of people in the photo, etc.
What are high resolution photos? These are photos straight off your camera or phone that are original size, and have not been resized, saved for web, saved for email, etc. The larger the photo, the clearer it is in print, so send the biggest one you have. Photos should be no less than 500 KB. Submissions to be considered for the cover photo should be portrait oriented and at least 2 MB in size.
More Ways to Promote with MCG Media
Giv'er Website: If you can't wait for the next print issue and want to send submissions to the Giv'er website (that's where you're reading this!) then submit your good news by using our submissions form at https://www.giverontheriver.com/submissions . Keep it positive and we'll promote it! All stories that are printed in the magazine also get published online.
Mighty Miramichi Events Calendar: Our online events calendar is open to the public to submit events happening throughout the Miramichi Region. Its quick and easy to use. Visit www.mightymiramichi.com/events for the events calendar and click "add an event". If you are having a yard sale, craft market or bake sale, enter it here as well. www.mightymiramichi.com/yardsales
Businesses, please send ad inquiries to .
Looking forward to hearing from you!
Stacy Underhill, The Giv'er Lady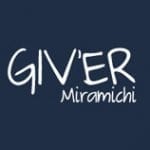 Giv'er Miramichi is about "What's up, what's new, what's happening". We are focused on building people up, supporting one another and celebrating our successes.