Upcoming Events at the Central NB Woodsmen's Museum
The remainder of the 2019 year is jam packed with lots of upcoming events at the Central NB Woodsmen's Museum located at 6342 Route 8 Highway in Ludlow – Upper Miramichi for various ages and everyone is welcome to attend.
For more information contact Claude Petitpas, Fundraising Events Coordinator at (506) 369-7214 or email: " target="_blank" rel="noreferrer noopener" aria-label=" (opens in a new tab)">.
Be sure to "visit" the following websites all on the Central New Brunswick Woodsmen's Museum
Website: https://woodmensmuseum.com/
Facebook: http://www.facebook.com/WoodmensMuseum
Twitter: https://twitter.com/woodmensmuseum
Instagram: https://www.instagram.com/woodmens.museum/
YouTube: https://www.youtube.com/user/TheWoodmensMuseum/
Schedule of Events and Happenings
Saturday, September 14th, 2019 – 2019 Fall Breakfast Fundraiser – Join us Saturday, September 14th, 2019 at the Central NB Woodmen's Museum, 6342 Route 8, Boiestown, N.B. for a delicious "Buffet Style" breakfast to celebrate the beginning of the "fall" season and the changing of fall colors! After breakfast, join the "Fall Frolic" at the Upper Miramichi Community Park (just across the street). Adult $10, Youth (12 and under) $5, and Family $25. Includes: Homemade Pancakes, Home Baked Beans, Eggs, Bacon, Sausage, Toast, Jams & Jellies, Orange or Apple Juice, Coffee & Tea.
Find the event on Facebook at: https://www.facebook.com/events/2478156285793024/

Friday, October 25th, 2019 and Saturday, October 26th, 2019 – Things That Go Bump In The Night – High Scare – 7:30 pm – 8:45 pm, Low Scare – 8:45 pm – 9:00 pm at the Central New Brunswick Woodmens Museum, 6342 Route 8, Boiestown, NB. Things that go bump in the night? What could they be? Vampire, Ghost, Zombie, Poltergeist, Werewolf, Jason, Leatherface! Are you brave enough to face them? Discover what terror awaits you. HIGH SCARE: children 11 and under will NOT be allowed through. However, a supervised craft area will be provided. Admission: $10/adult (17 and up), $5/youth (16 & under), or $25/family (2 adults and 3 youth 16 & under). Proof of age must be presented with ID. Please dress for the weather as it may be cold!
Find the event on Facebook at: https://www.facebook.com/events/417493725541542/
Friday, November 1st, 2019 and Saturday, November 2nd, 2019 – Christmas Craft Market – From 4:00 pm – 8:00 pm on Friday and from 10:00 am to 2:00 pm on Saturday. There will be over 30 Vendors, and Unframed Prints – $10 each. Why you should stop in for the following: Our unique vendors will be bringing products made from the heart, such as Knitting, Baking, Pickles, Crafts, Clothing, Books, Spices, awesome treats, your opportunity to support local vendors, an opportunity to scratch some of those names off your shopping list and a raffle tickets on cedar wishing well, "Murphy Bogan" framed print and a decorate christmas wreath. Admission is free. For more information, or to book your table for only $20, please call 1-506-369-7214.
Find the event on Facebook at: https://www.facebook.com/events/373959833277805/
Saturday, December 7th, 2019 – Breakfast with Santa From 8:00 am to 11:00 am, there will be Breakfast with Santa. Join us December 7th for Breakfast with Santa! Santa will be here to enjoy breakfast with you & your family. The breakfast includes homemade pancakes, home baked beans, toast, scrambled eggs, bacon, sausage, etc. A "Photo Booth" will be set up – come take your own photos with SANTA! Admission: Adults – $10 Youth (12 & under) – $5 Family – $25.
Find the event on Facebook at: https://www.facebook.com/events/2951671568240229/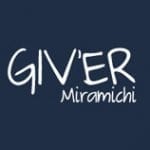 Giv'er Miramichi is about "What's up, what's new, what's happening". We are focused on building people up, supporting one another and celebrating our successes.