40 Years Of Service In The Historic Chatham Business District – Dr. Donald Lobban
Lobban Dentistry Celebrates 40 Years Of Service
The Historic Chatham Business District (HCBD) recently awarded a plaque for 40 successful years of business to Dr. Donald Lobban, who opened his dental practice in 1979 on Historic Water Street in Chatham and continues to practice today in that same location.
Don has spent the majority of his life in Miramichi being born and raised in Loggieville and in 1970 graduated high school from District 10 High School, Chatham. He studied at Mount Allison University in Sackville, NB and continued studies at Dalhousie University, Halifax where he attended dental school and graduated in 1977. From 1977-1979 he worked as a dentist in Dalhousie, NB for the NB government, primarily at St. Joseph's Hospital.
In 1979 he returned home, acquired rental space for a dental practice on Chatham's "front street" where the Sears Catalogue store once operated and has called that location home for the past 40 years. He has had the privilege and opportunity to meet many wonderful and loyal patients and families during his time. Some of his current patients are 3rd generation family members of the original patients he treated in 1979 and he would like to thank all of them for their trust and support.
With so many loyal families to assist and serve, returning to Miramichi and practicing with Don became his daughter's, Anne's motivation to become a dentist. Dr. Anne Lobban moved home to Miramichi in 2015, began working and today both dentists feel fortunate to be able to live and serve such a vibrant community as Miramichi and surrounding areas. They sincerely hope to be able to provide quality care for many years to come.
Mavis Williamson, General Manger states "It is vital the Historic Chatham Business District as a business organization acknowledges the success stories. Forty years of offering a service to the community is commendable. We wish both Doctors much success as they continue to serve our community."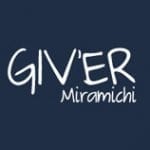 Giv'er Miramichi is about "What's up, what's new, what's happening". We are focused on building people up, supporting one another and celebrating our successes.