Salvation Army – Giving Hope and Support at Christmas
by Stacy Underhill
Christmas will soon be upon us and for many that means shopping for gifts, decorating the house and stocking the pantry for holiday parties. But for families struggling to make ends meet, these are often luxuries they simply cannot afford.
Buying a turkey for Christmas dinner and even the smallest of gifts for a child is challenging for many families in Miramichi who end up seeking help from The Salvation Army and other churches and organizations in the area.
The Salvation Army assists people in need all year long, but at Christmas the need is greater and their support programs and fundraising activities increase. They provide registered individuals and families with Christmas hampers and/or gifts which provide basic food staples and all the fixings for a turkey dinner. They must register in advance to receive a hamper and provide proof of income and expenses
Who Does the Salvation Army Help?
Major Vida Ryan, Community Ministries Director at The Salvation Army says there are many reasons why people find themselves needing their services.
"We have clients who are single parents raising a family on one income or receiving social assistance or disability benefits. Some can't work due to medical or mental health issues. There are also grandparents raising grandchildren on limited incomes," she says.
There is often a stigma that all clients are receiving social assistance, but that is not always the case. "We often see families who are considered the working poor. They are barely getting by month by month and then someone loses their job, or has an accident, and their car breaks down. Add to that the higher heating costs in the winter and suddenly Christmas becomes a huge source of stress and financial burden. We are here to help relieve that stress," says Major Vida.
Christmas Campaigns
Last year there were 210 families registered for the Christmas Hampers which included 156 children & teens and 291 adults, and they all received food and/or gifts. This was made possible through funds raised in the Kettle Campaign, and numerous donations of food, toys, turkeys, toiletries, gift cards and money from individuals, businesses, service groups, churches, schools and organizations in the community. There are also people who knit hats, mittens and scarves all year long to donate.
At MCG Media, we are one of 23 businesses, organizations and individuals who directly sponsored food and/or gifts for a family last year. Our staff each donates money to the pot, in lieu of buying office gifts for each other, and we go out and buy gifts specific to a certain age boy or girl. This year instead of buying groceries we only need to purchase a grocery gift card. This way the family gets to choose what they like and it allows them to stretch out the purchases instead of receiving all the food at once.
If you like shopping, this is a very rewarding experience. If you don't have the time to shop, consider purchasing grocery store and Walmart gift cards to help support a family.
Major Vida wants to emphasize that every donation is appreciated and will help make a difference in a child's Christmas. "Giving doesn't have to be a burden. Whether you can afford to give a $200 gift card or a $25 one, it will be put to good use and we are thankful for all donations."
Community Resource Centre in Miramichi
The Salvation Army Community Resource Centre (Family Services) in Miramichi offers assistance to people all year long by providing emergency food or clothing vouchers, toiletries, emergency accommodation and/or travel if resources are available, assistance with clothing and small household items following a fire or disaster and free meals at their Friendship Suppers.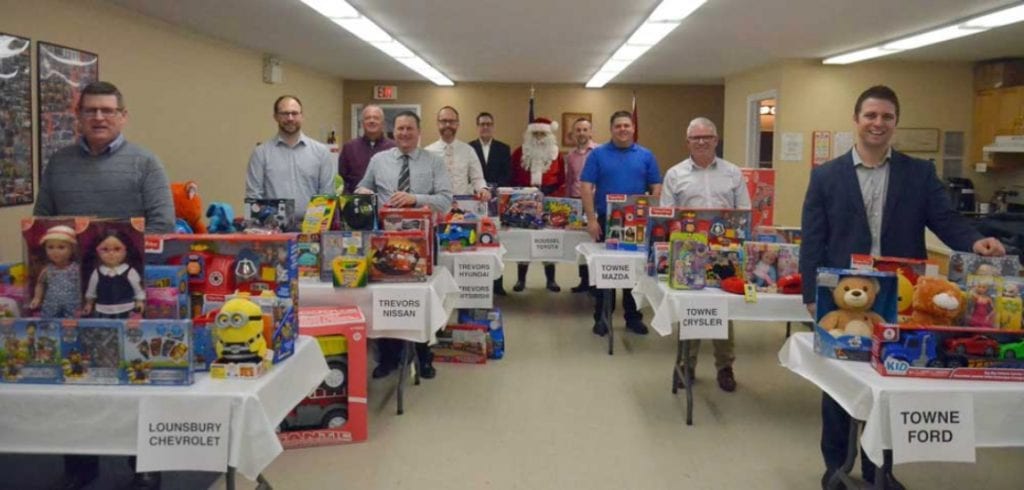 Friendship Suppers offer a hot meal and fellowship to anyone who wants to attend. They are held every Monday, Sept. 9 to Dec. 9, 2019 and resume again in January through to May. Doors open at 3:30pm and the meal is served from 4:00 to 4:45pm. Upwards of 30 people attend each week, however everyone is welcome.
The Salvation Army is an international Christian organization that began its work in Canada in 1882 and has grown to become one of the largest non-governmental direct providers of social services in the country. They offer assistance without prejudice, judgement and with confidentiality.
If you are interested in sponsoring a family, hosting a toy drive or other fundraiser, or making a donation, contact them at 506-622-7826.
This article was first featured in the Fall 2019 Issue of Giv'er Miramichi Magazine.