The Success of I Wrote a Thing
Sometimes it takes chance meetings for people to know each other and go on to make a difference in the community.
That is exactly what happened when three young people met in Miramichi through Yoga or Improv for Anxiety.
All single and in their late twenties, and living in Miramichi, Jacob Legere, Kayla Scully and Andréa Bertram looked to create community and an alternative to going to bars to socialize.
The result was the launch of I Wrote a Thing, an eight-week poetry workshop held over the summer at the Newcastle Public Library.

With support from partners Words on Water Miramichi, the Miramichi Regional Multicultural Association, The Newcastle library and a Rising Youth Grant, the trio developed a format of exercises, prompts and meditations each week to spark the imagination and to motivate people to write.
The idea was that it does not matter what you write, as long as you write. The workshop offered a support circle and fostered creativity in a non-threatening environment.
The facilitators were surprized at how well it was received. "We did not know if anyone would show up in the beginning", commented Jacob Legere.
And, although originally aimed at youth, the workshop attracted a range of ages, from people in their 20s up to 80. Kayla Scully added that once the group bonded, it developed into something deeper.
The writing done in the sessions was fast and without edits. A selection of this raw writing by members of the workshop was collected into a book with cover design by NBCC student Armin Soleimani, originally from Iran, and inside doodles by Melissa Raeburn.
One of the workshop facilitators Andréa Bertram has worked at the multicultural association for more than a year, after graduating from NBCC's course in Human Services, essentially a course, she says, aimed at helping people. She sees the writing workshop as an opportunity people to open their eyes, develop their own skills and incorporate them into their lives.
In what she calls a changing Miramichi with a small increase in growth, diversity and a younger population, the project was enthusiastically welcomed. One of the participants, Bernie Walsh, said the workshop was "a gentle tantalizing seductive brain massage, dissolving the fluff and dust, refilling with light and colour."
Another group member, Tammy Greene, said it surpassed her imagination. "This group provided me the discipline to (set time for myself) and allowed me to fall in love with writing all over again."
She went on to say that she was thankful to the organizers, especially Jacob, for putting so much care into every detail and for providing feedback with great encouragement. She added that she was heartbroken when it came to an end.
"I hope that we can continue to meet as a group so as to continue on a lovely writing journey among kindred spirits".
I Wrote a Thing continues through a Facebook page through which members can still share their own work and information on writing.
There is talk of starting another project, perhaps in a different format such as open mic. Definitely something to look forward to!
This article was first featured in the 2019 Fall Issue of Giv'er Miramichi Magazine.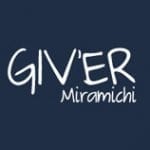 Giv'er Miramichi is about "What's up, what's new, what's happening". We are focused on building people up, supporting one another and celebrating our successes.