The Christmas Giv'er is Here!

The Christmas Issue of Giv'er Miramichi magazine went out in the mail last week and is available to pick-up at locations around the region, and also online at: www.giverontheriver.com/magazine/
In This Issue
• Christmas events listing
• Christmas Harmonies at Wilson's Point
• Santa's Workshop and Holiday Camps at Boys & Girls Club
• Books, Coffee and Gift Ideas at ARM Book Nook
• "It's a Wonderful Life Christmas Production Musical" presented by the Point Church
• Excitement Builds for New Cross Country Ski Season
• Miramichi Timberwolves Upcoming Schedule and Featured Player, Jason Imbeault.
• Feeding the Birds of Winter
• Christmas Concert with James Morrison and the DownEast Entertainers.
• Hospice Miramichi: Looking Back on a Successful Year
• Highland Society Donates a Special Tricycle
• Positive Momentum continues for Miramichi Transit
• Wayne Curtis Receives the New Brunswick Lieutenant-Governor's Award for Literary Arts
• Staying Secure on the River: The Story of Shadcomm
• Pre-planning Now with Worry-free Travel
• Gignac de Neguac: Glass Art on the Acadian Peninsula
• Christmas & Winter Programs at the Library
• Dolan Woodlands Nature Preserve Announced in Miramichi
• Recipes for Cranberry Sauce, Christmas Cookies, and Ginger Tumeric Tea
• Here We Grow Again! – Furniture and Carpet Man Expansion
• Plus photo submissions, a colouring page and puzzle game.
The cover photo on the Christmas issue of Giv'er Miramichi magazine was taken by Bonnie Coughlan of a snowy street in Miramichi at Christmas.
Online Version
Enjoy the current issue of Giv'er Miramichi magazine online – flip through it, share it on Facebook, or email the link to friends and family living away. Past issues are also available that you can view as pdf documents. www.giverontheriver.com/magazine
Visit www.giverontheriver.com where you'll always find good news, and positive, uplifting stories in our blog posts.
You'll also find current and past issues of Giv'er Miramichi magazine, the Mighty Miramichi River Guide, a list of locations to find our publications, and a place to submit your stories and photos.
Pick-up Locations
Find a list of locations that regularily have a rack of Giv'er magazines in stock, free for the taking, at this link: https://www.giverontheriver.com/magazine/locations/
If you want extra copies of Giv'er magazine to send to family or to distribute at an event, or back issues for a school project, give us a call and we can help you out! Tel: 506-352-7668.
Submissions
Submit now for the Winter 2020 Issue – Deadline is January 17, 2020
Send us your good stuff to talk about on the river! We're looking for events, stories, celebrations and pictures about what's up, what's new, and what's happening. Keep it positive and we'll promote it. Giv'er Miramichi is published and copyrighted by MCG Media in Miramichi. Send submissions to
To Advertise in the next issue email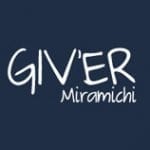 Giv'er Miramichi is about "What's up, what's new, what's happening". We are focused on building people up, supporting one another and celebrating our successes.