Ashley Hallihan, Inspiring Young Entrepreneurs at BHS
by Deanna Nordin
Blackville School is a K-12 school situated in the little Village of Blackville. Within this school there is a new learning facility called the BHS ICE Centre. The BHS ICE Centre focuses on Innovation, Collaboration, and Entrepreneurship. Here students are encouraged to participate in activities where they create products in a Makerspace as well as their Entrepreneurship classes.
In the Fall of 2018, Blackville school gained a new teacher that would change the way students learned, one class at a time. That teacher's name is Ashley Hallihan. When Mr. Hallihan arrived at Blackville school, he pitched the idea of the Makerspace to our principal and other staff members.
The students and staff at Blackville really enjoy Mr. Hallihan's classes as well as his personality, saying things like:
"He adds a lot to our staff which helps keep our students engaged, he connects well with his students and isn't afraid to take chances". – Rodney Buggie, Blackville School principal.
"He's a nice guy and gives us opportunities to create things we have a passion to create." – Cassidy.H
"He Inspires us to try new things." – Kiara.M
"Mr. Hallihan is a great inspiration to the students and staff members and inspires his classes to be creative as well as try to and achieve the impossible." – Caleb.G
Students that participate in the Makerspace classes have access to equipment and materials that support project ideas. Students in grades 3-5 are focusing mainly on the basics of code, this includes playing a computer game that involves coding to control a characters actions and movements. Children in Middle School have completed the Young Entrepreneurs Program as well as explored coding basics and robotics. Students at the High School level have the opportunity to participate in the Co-op (MAKE) 120 class, which emphasizes project based learning, and students also have the opportunity to develop their innovation in a course called Entrepreneurship 110.
Entrepreneurship Showcase & Fair Mr. Hallihan's 2020 Entrepreneurship class had planned to host a market where they would sell and showcase their hard work to the community. However all such activities have been cancelled and the school year has come to an end.
The students have developed products such as custom painted phone cases, t-shirts and hats with original designs, wooden signs, and much more.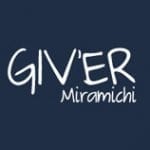 Giv'er Miramichi is about "What's up, what's new, what's happening". We are focused on building people up, supporting one another and celebrating our successes.