Michael Walsh was born and raised on the Miramichi. His Acadian mother, Nellie (Comeau) was a school teacher and his father Albert Walsh worked for DND at the Ammunition Depot in Renous and then the RCAF base in Chatham. Albert was a proud veteran of WWII and this heavily influenced Mike as did his mother's passion for teaching and learning. Mike left the Miramichi region after graduation and was forty five years before he took up residence again in Doyle's Brook. In 1977 Mike married Colleen Hayden whom he had known all his life as she grew up just a few miles away in Chelmsford. They have two daughters. Mike lived in Saint John and Moncton prior to them residing for twenty two years in Halifax, eight years in Al Ain (UAE) and twelve years in Doha (Qatar). Mike has earned a Diploma in Industrial Electricity from the NBCC, a Certificate of Apprenticeship from the NS Dept of Labour, a B.Eng. (Electrical Power Systems) from TUNS, a B.Ed (Vocational) from Saint Marys and a M.Ed from the University of Southern Queensland in Australia. Mike also completed the Canadian Land Forces Command and Staff College program, the IESNA Certificate of Knowledge program, the non-restricted firearms licenseprogram and the boater safety programs. Mike is a member of Engineers NS, of Engineers and Geoscientists NB, of Saint Edwards Church and now of the Newcastle Rotarian club. Mike has held Canadian Army non-commissioned ranks up to that of Warrant Officer and commissioned ranks up to that of LCol. Mike has also volunteered extensively, as a minor hockey manager, coach and referee. Mike looks forward to semi-retirement on the river with Colleen based at their home overlooking the river in Doyle's Brook. He plans to be an active member of the Rotarian Movement and also become more involved in local community volunteer and leadership activities.
Source: Rotary Club of Newcastle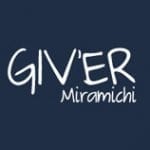 Giv'er Miramichi is about "What's up, what's new, what's happening". We are focused on building people up, supporting one another and celebrating our successes.