Weekly Worship Service with Douglastown Community Church
Join the Douglastown Community Church for a thoughtful worship service at 11:00 am on Sundays that includes beautiful music, gospel-rich sermons and other opportunities to draw closer to our Creator and Redeemer.
Don't hesitate to contact us with questions.
We can't wait to meet you in person!

This Spring we are exploring the book of Romans.
Romans: The Gospel Great and Glorious

Reverend Joash Schumpelt

The book of Romans is the powerful proclamation of The Gospel, what Jesus has accomplished in His life, death and resurrection.
As we explore this book together we will see that the Gospel changes everything about the way that Christians relate to God, our past and our future.
Come find what Paul means when he says, "For I am not ashamed of the gospel, for it is the power of God for salvation to everyone who believes"
Romans 1:16
Be sure to "visit" the Douglastown Community Church website at: https://www.douglastownchurch.ca/ and on Facebook at: https://www.facebook.com/dccmiramichi/
Find this event on Facebook at: https://www.facebook.com/events/466030504109402/?event_time_id=466030507442735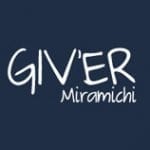 Giv'er Miramichi is about "What's up, what's new, what's happening". We are focused on building people up, supporting one another and celebrating our successes.