Beaverbrook House: Victorian Elegance in 21st Century Miramichi
By: Charlotte Loggie, Miramichi Historical Society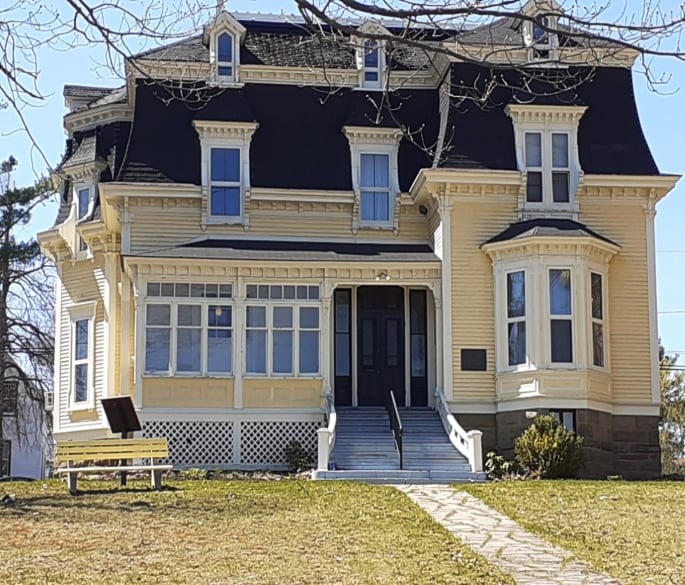 In 1877, work began on a three storey home set on a hill overlooking the young town of Newcastle. The house was built in Second Empire style, which was popular from 1865-1900 in North America. The style consisted of elaborate ornamentations, and a mansard roof. This kind of roof was named after a French architect Francois Mansart. Its chief characteristic is its squarish slope, often pierced with small dormer windows. David Dunham, a prominent builder from Saint John in the 1870s and 1880s, was engaged to bring the elaborate plan for the house to life. The house was originally intended for a local shipbuilder, WIlliam Watt.
Whether William Watt ever lived in the house is lost to history, but in 1879 St. James Presbyterian church purchased the house for its own use as a manse. The next year, the Aitken family from Maple, Ontario, moved in, and Reverend Aitken took up his duties as minister to St. James church. The Aitken family consisted of Reverend WIlliam Cuthbert Aitken and his wife Jane with their five children of whom Maxwell (later Lord Beaverbrook) was the youngest. Five more children were born to William and Jane in this manse.
The Aitkens lived in the manse for 22 years, until 1902, when Reverend Aitken retired and moved to another house in Newcastle provided by his son Max.
The house continued as a manse for the Presbyterian church and then the United church (after 1925) of St. James and St. John until 1952 when Max Aitken, now Lord Beaverbrook, purchased the house for the Town of Newcastle. He intended it to be used as a Public Library and sent a librarian from England to supervise its transformation. One year later, Louise Manny, a local historian and folklorist, began her work in this house, acting as chief librarian. The house became known as "The Old Manse Library" which some children in Newcastle undoubtedly thought was "The Old Man's Library". Local people who grew up in Newcastle in the 1950s through the 1980s will have many fond memories of entering the elegant house and checking out books or working on homework under the watchful eye of Miss Manny.
Louise Manny's tenure as librarian ceased in 1967 but the library continued, with Mrs. Edith MacAllister, and then Catherine Reid serving as librarians.
In 1992, the town of Newcastle had a new library built, dedicated to Mrs. MacAllister, and the Old Manse Library was closed. Efforts were made to keep this historic and significant building relevant to the community, so the Historic Beaverbrook House Commission was formed. The role of this volunteer group is to oversee its upkeep and maintenance and to ensure its continuing contributions to the community. The house is now a designated Historic Property, and a plaque dedicated to its most famous son, Max Aitken, was installed recently on the front lawn, naming him as a National Historic Person. It is also the meeting place for the Miramichi Historical Society..
All three floors of the house are furnished in Victorian period style with some furnishings donated by Lord Beaverbrook himself, and others from local citizens.
Guided Tours
Beaverbrook House is open all summer, offering guided tours. It opens for the season on July 1st, and will open every Wednesday through Saturday from 10 am to 5 pm, and Sundays from 12 pm to 5 pm.
An interesting addition to the guided tours of the House is "The Beaverbrook Trail" a guided walking tour through the neighbourhood, highlighting homes and public buildings that would have been familiar to Lord Beaverbrook when he lived in Newcastle as young Max Aitken.
In Miramichi, we are surrounded by history. We are indeed fortunate to have so many examples of interesting architecture with significant stories around us still in good condition, still telling their stories to those of us who will take the time to listen.
Visit the Beaverbrook House website at www.beaverbrookhouse.com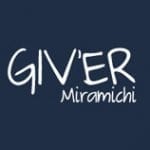 Giv'er Miramichi is about "What's up, what's new, what's happening". We are focused on building people up, supporting one another and celebrating our successes.