Ted Williams' White Birch Lodge on the Miramichi
by Brad Burns
Many of us who fish the Miramichi are fascinated by its history of attracting some remarkable people to its waters. At the top of that list stands Ted Williams who was not only a very high-profile personality, but someone who became much more involved with the river than simply spending a long weekend at an outfitting camp. Ted's popularity is particularly broad based because he had two appeals. First was the bigger-than-life persona of the Hall of Fame baseball player who hit .400 or better in three seasons for the Red Sox – in spite of a career interrupted by stints as a fighter pilot in both WWII and the Korean wars. Second, though, was his local appeal to the men who worked along the river. My old guide Willy Bacso said that the local men admired him because like many of them who had worked in the woods and guided their whole lives, Ted was rough and tumble. He took no crap, cussed with the best of them, and was physically able enough to back it all up.
This September my wife, myself, and friends from California visited Ted's camp White Birch Lodge, hosted by Clarence Curtis who is the caretaker and guide for the current owner Joe Walsh. Clarence's father Roy met Ted as a guide at Doctor's Island on one of Ted's first trips to the river in 1958. Ted soon decided that he liked the river enough to have his own fishing water, and he hired Roy as his personal guide. Ted also hired Roy's wife Edna to cook and do the housekeeping.
The Curtis family found Ted a great spot in the Rapid's section of the Miramichi on property owned by Johnny Coughlan. Ted had a hand in the design of White Birch which has a big, high-ceilinged, open layout. Sid Travis from Sunny Corner built the camp in 1961, the year after Ted retired from baseball. Ted wanted to be part of the building process and helped by running wheelbarrows of hand poured cement.
Williams used to come up at the end of June and fished virtually every day until the season closed first on September 30, and in later years on October 15. The only guaranteed interruption to his schedule was the Hall of Fame induction ceremony at Cooperstown. Ted never missed it and drove the 1600-mile round trip each year to attend. At the end of the season Ted packed up and drove to his winter home; first in Islamorada, then after 1989 to Crystal River near Homosassa Springs.
Roy Curtis died in October of 1988 after guiding Ted every day that season until it closed on September 30. Roy's son Clarence took over after that, and guided Ted for the next 5 years until the end of the 1993 season. Even though Ted was no longer able to come back to the Miramichi after 1993 he never stopped thinking about the river. He still employed Clarence and Edna to look after the place, and Clarence talked to Ted by phone often during the fishing season keeping Ted abreast of the fish and fishing conditions. Ted passed away in 2002, Edna retired, and her position was filled by Peggy Curtis, wife of Clarence's brother Arnie.
Ted was one of the first life members of the Miramichi Salmon Association.
Even though Ted is gone the attachment that Clarence still feels to the camp and Ted's memory is very apparent. When I arrived for my visit, he was picking up twigs from the lawn after a blow the night before. For Clarence, the camp is clearly a shrine to Ted's memory.
I never knew Ted Williams, and I never watched him play a game of ball. To see the camp that he had built for himself though, with the table at which he ate all his meals – he always sat right in that corner as Clarence pointed out to me – the bed where he slept, the table where he tied flies, the pegs on the side of the house where he hung his rod, and the long row of stones that he had placed in his pool, all amounted to practically a religious experience. It all had a timeless feel, even though certainly Ted's time has come and gone. It reminded me that the river will always be there, and it is us who get only a few seasons to fish its waters. Instead of making me feel sad, though, the whole scene gave me a warm and comfortable feeling. It was Labor Day, I was on the Miramichi, and about to spend several weeks walking in the footprints of men like Ted Williams, Charlie Wade, Seabury Stanton, Harry Allen, and many others who like me felt that there was nothing more worth doing than standing in this magnificent river and casting to its salmon.
The future of White Birch Lodge
The new owner Joe Walsh is an American with roots from the Howard Road in Upper Blackville. Joe recounts his first trip to the Miramichi, spring fishing in the lower Cains River in 1972 when he was 8 years old. The river was full of ice, said Joe, but he was hooked for life. Joe's mother's maiden name was Katherine Vickers. His grandfather was Doctor Martyn Vickers of Bangor, who was well known as a fisherman along the river.
Joe says his plans are "to continue Ted's memory and love of Atlantic Salmon and the Miramichi through the lodge and experiences with my daughters, my family, Clarence Curtis and Peggy Curtis."
Like Williams, Joe Walsh loves to fish, but with his busy career his time on the river is limited. He has chosen to share White Birch Lodge with members of the public who will appreciate an opportunity to fish at Ted Williams's camp. Visit the website at www.tedwilliamslodge.com for more information.
Brad Burns fishes frequently for Atlantic salmon on the Miramichi River, and is on the boards of both the Miramichi Salmon Association and the Atlantic Salmon Federation.

Brad is the author of Closing the Season: Salmon Fishing in New Brunswick on the Miramichi and Cains River, and his most recent book, On the Cains: Atlantic Salmon and Sea Run Brook Trout On the Miramichi's Greatest Tributary.
Visit Brad's website at www.bradburnsfishing.com to purchase or read excerpts from his books, and stay up to date on local fishing through his Salmon Report.
The article Ted Williams' White Birch Lodge on the Miramichi by Brad Burns was first featured in the 2020-2021 River Guide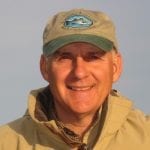 Brad Burns has avidly pursued striped bass, brook trout, Atlantic salmon and a host of other game fish for over 50 years. He is the author of the L.L. Bean Fly Fishing for Striped Bass Handbook, and with John Cole co-authored Fly Fishing for Saltwater's Finest in addition to this latest book Closing the Season. Brad has also written for many of the best known fly-fishing publications.