Miramichi Dog Authors "Pawsitive," Inspirational Book of Hope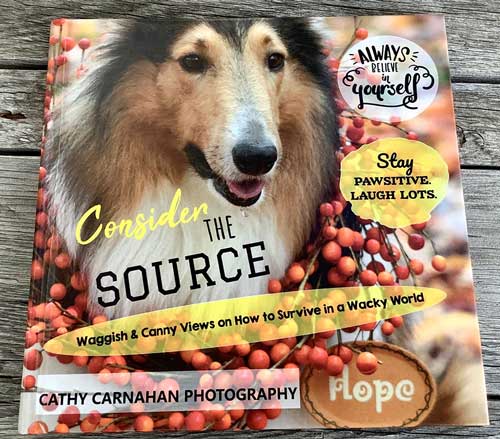 Local photographer Cathy Carnahan and her beloved dog, Miss Crosby, have teamed up to produce an inspirational book of hope, laughter, wisdom and common sense.
Consider The Source, with a subtitle of Waggish and Canny Views on How to Survive in a Wacky World, is set to be released just before the Thanksgiving weekend.
"This book is dedicated to our ancestors who lived in poverty but were rich in spirit, worked hard, embraced life and sought to create a better future.
"May we always remember the sacrifices they made, appreciate their commitment and learn from their heartaches."
So says Miss Crosby, the Rough Collie with Scottish genes, tagged after Canadian hockey legend Sidney Crosby, who insists readers just call her Crosby, because she's a politically-incorrect, dogmatic, non-partisan pooch.
During research for the book, Carnahan was delighted to learn her Highland friend, who embraces wisdom from all walks of life, has a Viking connection. The name Crosby is from Old Norse words – Kross and Byr – which mean Cross and Farm – both significant influencers in a blissful, meaningful life, according to Carnahan and Miss Crosby.
The Philosophical Dog of HOPE stands for Happiness, Optimism, Pawsitivity, Power and Pep, plus Enlightenment, Endearment and Enough of Everything.
"Peace, Hope, Love must begin in the Heart, at Home," reads one headline. "We are all Complex and Contradictory," reads another.
The 8" x 8" book, featuring over 200 color photographs of Crosby and wise animal friends, is filled with valuable life lessons, quotes and proverbs, including practical advice for empowering one's life and the lives of others.
The poem Consider is one such example:
When someone is rude or unkind,
Consider the source.
When someone is arrogant and self-centered,
Consider the source.
Don't let someone else define you.
Don't let circumstance control you.
Be your own self.
Embrace your inner wisdom.
Thank God for His grace,
And know He is the only Source
that really matters.
"A dog's life is very short compared to a person's," notes Carnahan. "Perhaps, that is why they waste no time on matters that at the end of their life will not matter.
"A dog, nor horse, even a cat, will ever betray the person who loves it."
Crosby agrees. "The world is not going to the dogs. Otherwise, it would be a much happier, kinder place," she writes. Then the patriotic pooch quickly acknowledges she cannot help but bark when she sees injustice and hears those, with a sense of entitlement, blaming others for their own poor choices.
"A dog understands words (or sounds) in any language and associates those words with consequences, if it does – or doesn't obey," she said.
"Always consider the source," she added. "Consider the Source."
The book will be available at provincial gift shops, stores and service centres. For further information, or to order a copy, email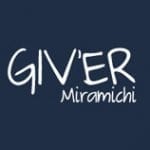 Giv'er Miramichi is about "What's up, what's new, what's happening". We are focused on building people up, supporting one another and celebrating our successes.