A Book Review Of Yorkshire Lass: An English War Bride's Story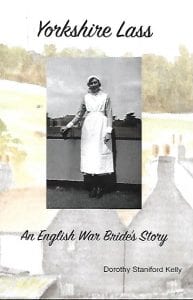 A Book Review
of
Yorkshire Lass: An English War Bride's Story
by
Dorothy Staniford Kelly
Edited by Sandra Kelly O'Hara
Born in 1912 and surviving the London Blitzkrieg as a nurse and midwife and later becoming a war bride in Douglastown, N.B. after the war, Dorothy Stanford Kelly has many stories to tell. She does it in a simple, almost diary-type style which I found fascinating to read.

Raised in Clapham, Yorkshire, England, young Dorothy loved the study of geography in school and, in later life, became an adventuresome world traveller. Clapman was predominately owned by a squire and Dorothy's father served as a butler and maintenance man and her mother, upon the squire's death in 1925, was hired as the cook. Like a mini Downton Abbey, the Staniford family went from a cold and damp cottage with oil lamps to live in the 55 room estate house in luxury with electric lights and central heating.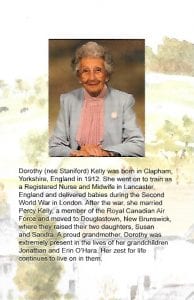 Dorothy goes on to become a Registered Nurse in 1936 and a midwife in 1939. Her detailed accounts of living through the horrific Luftwaffe bombings, spending nights in a waist-high bomb shelter which was only a hole in the backyard reinforced with sheet metal. She gives detailed accounts of travelling by bike during the blackout on pitch black rural roads, bike headlight covered, to deliver babies during the war.
After the war, Dorothy describes how she meets a young Canadian RCAF Sargent by the name of Percy Kelly on a holiday with a friend in Torquay. Percy would be honoured by his home village of Douglastown which named one if its streets Percy Kelly Drive.

Before Kelly was shipped back to Canada he asked Dorothy for her hand in marriage. He would send for her after he was employed and could acquire a home for them. On November 12, 1946, the soon-to-be Dorothy Staniford Kelly takes the SS Samaria on an eventful trip to Canada. As she described it "…leaving the land of my birth, going to a country I knew very little about."

After marrying Percy Kelly, she becomes a farm girl with very little knowledge of farming. In her first encounter with a skunk she writes that it looked like "a pretty little black and white furry animal trotting across the lawn…". Percy quickly educated her.

Dorothy goes on to become a maternity nurse at the old Miramichi Hospital where the new Court House is now. There she becomes great friends with Lois Grady who helped care for the birth of my two children and nearly all other Miramichi babies. Lois and Dorothy both offered such professional, personal care.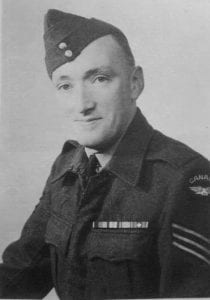 Despite the tragedy of losing her eldest daughter, Susan, in 1969 and her husband, Percy, in 1977, Dorothy continued on. After she retired from nursing, she lived with her daughter, Sandy, in Almonte, Ontario, outside Ottawa and travelled to see the world visiting places she read about in her geography lessons in grade school. Sandy, who edited and arranged her mother's accounts in this book, accompanied her to the Holy Land, Greece, Egypt, Turkey, Hawaii and back to her hometown of Clapham. Dorothy wrote wonderful accounts of those adventures, complemented by colourful photos. Dorothy Staniford Kelly passed away in Almonte, Ontario, on October 14, 2009. She was in her 98th year.

Yorkshire Lass: An English War Bride's Story is now available at the Mill Cove Coffee shop in Newcastle. I've read it twice now and have included some of Dorothy's accounts of the war years, along with a story on Percy Kelly, in the second edition of Miramichi Lads & Ladies: We Will Remember Them!, also available at Mill Cove Coffee.
– Johannes Bosma