Aunt Kay's Memories of Growing up in a Simpler Time
"It doesn't matter who you are, where you come from. The ability to triumph begins with you. Always." – Oprah Winfrey
Kathleen Quayle agrees. The Williamstown woman is to celebrate her 90th birthday on Dec. 16. She is one of 11 kids born to Murdock and Catherine (Mullin) Sutherland on the Northwest Miramichi. I am privileged to have grown up with my "Sweet Aunt Kay" who taught me a lot about life and a lot about love and faith. Several years ago, Kay, with just a Grade 3 education, jotted down a bit of her life story and I believe faithful readers of "The Giver" magazine, like her, will enjoy reading highlights about an earlier way of life, where nothing was taken for granted.
"We had to go to school to get the family allowance … I was 14 at the time."
By Kathleen Quayle
I was born in Hilltop in a log hut.
That was our happiest time, or for me, it was as a family. Dad worked in the woods all day. None of us went to school, as it was too far to go. School was out in Sevogle or Trout Brook.
We trapped mink, weasels and rabbit with traps set by the brook. It was my brother Perley's job to skin them, but we'd all share the money and Mom would make rabbit stew.
We would sell the mink and weasel skins and buy our clothes for the winter. We only got 50 cents a pelt, but we could buy a ski suit for $2.50 at that time. There was also a 50 cent bounty on porcupines back in the '40s, because they ate the bark off the pine trees so bad that the trees would die and the Government wanted to save the trees.
I also remember Dad and Mom would get old King, our white horse, into the wagon or sleigh, and take us out to Minto Harris's in Sevogle – and out to our grandmother's nearby, for a visit. Then, we would go to the Sevogle School at Christmas time (it was next door) to see Santa and the Christmas play.
It would be pretty cold sometimes. I remember Mrs. Minto Harris – Greta McAllister –took the coat off her daughter's back and gave it to me. She thought I would be cold on the trip back to our cabin, and she told her girl she would send to Eaton's catalogue and get her a new one. What a heart that woman had! She was so good to us and everyone, a great lady.
When we got home Dad would get the wood stove going, and sometimes water would be frozen on the table.
We had to be tough. We were never sick, and there was always a small baby among us. But Mom made nearly all our clothes, and kept us warm.
Our Log Cabin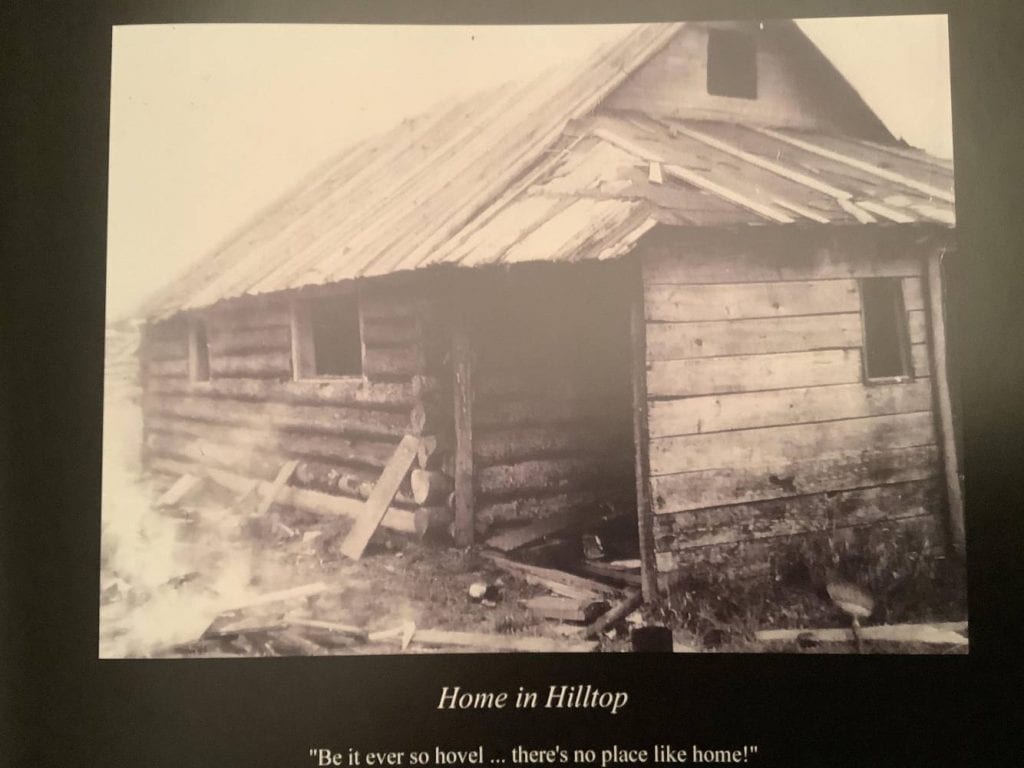 Our cabin had two bedrooms: Mom and Dad and baby in their room; five of us in the other room, three at the head of the bed and two at the foot of the bed, with lots of toes in your face all night.
The two older boys slept up in the attic on straw mattresses on the floor, only crawling room up there. But they were happy, not like the young boys now that have everything and are not happy.
We only had straw mattresses. Mom would make them with 100 pound Robin Hoodflour bags. They were strong with a lot of red and green writing, and Mr. Robin Hood with his read and green hat on, a pretty jolly looking fellow. Mom would take the bags and wash them in Gillis Lye soap she made from beef tallow. Most of the time, she got out nearly all the markings on the bags.
Mom would ravel out the bags. She knew how to do that. At one end of the bag, she would cut the string and, if you cut the right end, it would ravel right around the whole bag.
It would take nine or 10 bags to make one mattress. So she would sew them all together and fill them with straw. The straw is an oat plant that has oats on top of it, that men feed their horses with and we make oatmeal out of. Older people know all this stuff, but lots of young people do not. Well, after the oats are taken off the straw by the big machines, only straw is left – a big long piece of grass I will call it. So Mom would fill that big bag with straw and there was the mattress.
It made a good bed as long as you kept it shook up every morning. When it got old and didn't keep its shape, out went the straw to the cow stable, or to the pigs, or to whatever needed it.
Mom would wash the big tick, as we called it, and fill it with new straw. Dad said it was better than tree boughs they used in the woods to make a bed for the men to sleep on.
For pillows, she did the same thing. After killing her roosters and hens, she would take the feathers off of them, wash the feathers and fill the Robin Hood bags. Those were our pillows, and good ones at that.
In 1944, Dad and Mom moved out to the George Estey Place, down by the river in Sevogle. We had to go to school to get the family allowance. The Government gave the oldest ones $5 a month and the small ones a lot less. You could only get the allowance, if you went to school. I was 14 at that time.
Kathleen Jennie Sutherland was born Dec. 16, 1930 in Hilltop, NB. She married Perley Quayle, a school principal and farmer from Williamstown, on Sept. 14, 1950. He died in 1975 and Kay was left a young widow. Their only child, Audrey, and her husband, James Whitney, have three children. Kay is also Great-grandmother to six. Kay has led a humble life, working hard and touching lives everywhere with her kindness, generosity, wisdom and faith.
This story was originally printed in the Christmas 2020 Issue of Giv'er Miramichi magazine.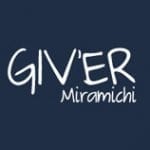 Giv'er Miramichi is about "What's up, what's new, what's happening". We are focused on building people up, supporting one another and celebrating our successes.