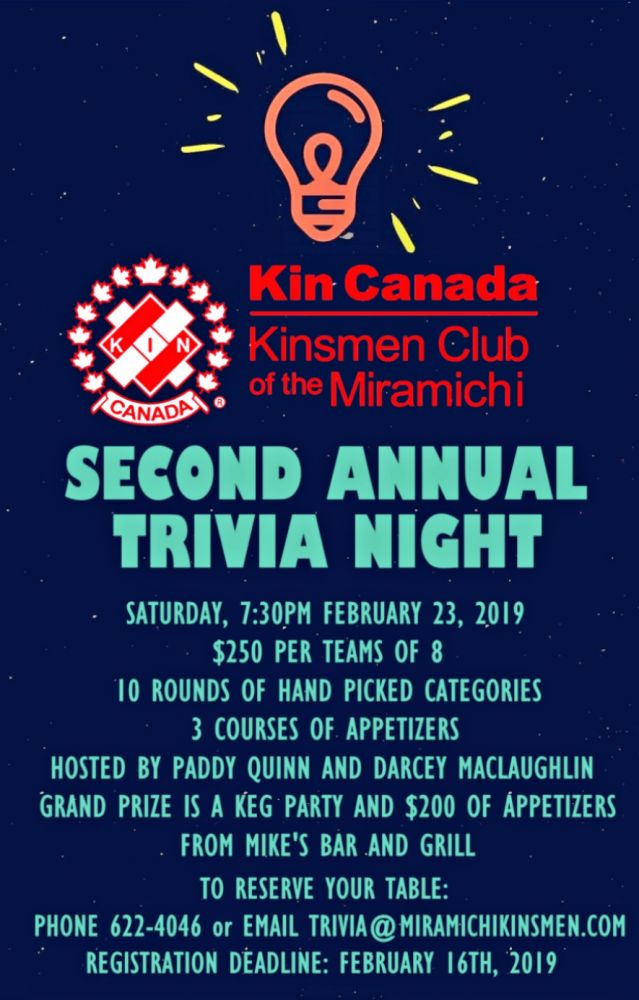 Come out to the Miramichi Beaverbrook Kinsmen Centre, 100 Newcastle Boulevard beginning at 7:30 pm on Saturday, February 23rd, 2019 for the Kinsmen Club of the Miramichi 2nd Annual Trivia Night.
$250.00 per teams of 8, with 10 rounds of Hand Picked Categories.
3 Courses of Appetizers too!
Hosted by Paddy Quinn and Darcey McLaughlin of 95.9 SUN FM.
The grand prize draw is a Keg Party and $200.00 of appetizers from Mike's Bar and Grill.
To reserve your table: contact the Kinsmen Club of the Miramichi at 1-506-622-4046 or email: trivia@miramichikinsmen.com.
The registration deadline is Saturday, February 16th, 2019.
Find the event on Facebook
"View" and "Like" on Facebook:
Miramichi Kinsmen Trivia Challenge and
Kinsmen Club of the Miramichi