Miramichi Fishing Report for August 25, 2011
We are into the heart of the Dog Days of August, but fortunately for the fish, most rivers are on the high side giving a buffer to warm days.  Cooler nights in the past few days are also keeping conditons very much on the positive side.  As soon as the water drops off, probably by the weekend, this is prime Carter's Bug time.  Let's hope Irene doesn't drop a flood upon us and ruin the fishing for the better part of a week.
Both Cassilis and Millerton Trapnets reported few fish with both averaging one, maybe two salmon a day and two to three grilse, so there is no fall run to report yet.  However, these numbers are about typical for the time of year.
W. W. Doak and Sons in Doaktown said angling was much better than expected for the middle to late August.  Catching reports were good enough to keep anglers interested in going to the river.  One camp reported hooking 12 fish while landing 10. The fish were generally old fish that had been in the system a while and were moving around as the water had come up between one to two feet on Tuesday.
Flies of choice were Bombers along with wets such as Same Thing Murrays (most requested), and some bugs such as White-tailed Green Machines and even a few Undertakers and the odd butterfly.
Derek Munn of Ledges Inn in Doaktown and Mountain Channel in the Rapids area said they had received a two-foot raise of water on Monday into Tuesday.  They were getting decent catch result having with five rods hooking seven fish and landing four.  On Tuesday, they hooked nine and landed five.  All were old fish with two being salmon and all the rest grilse.  The raise in water had the fish moving and more active than normal for August.
Flies of choice were Brown & Orange Bombers along with wets such as Same Thing Murrays, and White-tailed Green Machines on no. 6 hooks.
Herb Barry Sr. of Herb's Fly Shop on the Station Road in Blackville said the water there had raised at least a foot by Tuesday afternoon, and anglers were not catching fish.  They were seeing old fish that had been laying around.  Although angling was generally poor, he said it was still nice to be on the river.
Flies of choice were White-tailed Green Machines, Shady Ladies, Bear Hairs & Glitter Bears and dry flies such as Bombers.
Curtis Miramichi River Outfitting in Blackville said the river was high and dirty on Tuesday, so anglers were just waiting for the water to drop.  A few anglers were getting fish in some high-water pools.  There were lots of fish showing, but very few takers.  Canoeing conditions were great.  When I called the shop, Brock was being interviewed by film crew from "Hooking With Mariko Izumi".
Flies of choice were Bombers and in the wets, White-tailed Green Machines, Shady Ladies and Glitter Bears.
George Routledge of George's Fly Shop at the Mouth of Renous in Quarryville said angling was very slow, but the water was high and in great shape for the fish.  There were lots of old fish around, but they were not very interested in taking a fly.
Flies of choice were White-tailed Green Machines, Grenn Machines, Shady Ladies and a variety of Fall patterns as anglers were trying anything.
Jim Laws of Miramichi Hunting and Fishing in Newcastle, Miramichi reported angling as slow with lots of water through out the system. What fish were being hooked and seen were old, with few fresh fish around.  Most anglers were in pause mode, waiting for the fall runs to start.
Flies of choice were Dry Flies and Bombers along with the White-tailed Green Machine in wets.  Some anglers were going through their fly boxes trying anything in hopes of success.  Some anglers were stocking up on Fall patterns, although few were using them yet.
Syd Matchett of Trout Brook Fly Shop on the Northwest Miramichi said there have been some fish hooked and seen this past week, but there are not a lot of anglers out.  The Sevogle and Northwest were both high on Tuesday as there was a lot of rain in the headwaters.  The water itself was great for the fish.
Flies of choice were White-tailed Green Machines on nos. 4 & 6 hooks.
Debbie Norton of Upper Oxbow Outdoor Adventures on the Little Southwest Miramichi said they had decent fishing last week.  Ben Giffin (ASF's Geoff's son) hooked his first salmon ever and Oh so close to landing it.  This was on a rod that he and his dad had built together last winter.  Paul Elson landed a grilse on Friday and his son Paul Jr.  hooked two salmon and two grilse in Saturday.  Debbie's brother (and fine guide I might add) Fred landed a 15 pound salmon on Monday.  Then the water came up putting angling on hold for a day or two.
Flies of choice were White-tailed Green Machines and Will Taylor Specials.
As the weekend approaches, we hope the rivers will have dropped to comfortably fishable levels, and hopefully we can get some angling done in case Irene dumps a truck-load of water on us.  So get out and "on the water".
__________________________________________________________________________
REMINDER: Please support the businesses which sponsor this report. They make it possible.
Check out Deals 4 U in Miramichi for your grocery needs, and a very good selection of Cuban cigars to celebrate being on the rivers. Also check out their weekly specials.
Drop into Bryant Freeman's Eskape Anglers in Riverview to stock up on flies as well as any other equipment you may need such as a Redington Rod. Don't forget that this is the home of The Carter's Bug tied only the way that Bryant can tie it!
The Moncton Fish & Game Association holds monthly meetings at the rotary lodge on the 1st Monday of the month. For information about the range, membership, etc, please call (506) 351-0799. Their annual fundraising supper is on November 26.
__________________________________________________________________________
Thought for the Week: "There is no greater fan of fly fishing than the worm."  Patrick McManus
HUMOUR: Two fellows are out fishing on the lake.  A hearse and funeral procession passed the boat on a nearby road.  One of the fellows stands up and holds his fishing hat over his heart as the hearse passes.  His buddy comments, 'Gee Harry, that was really nice and respectful.'  Harry replies, 'Well after all, we were married for 40 years.' …Anon.
E-mail:
Hi Doug;
I'm currently enjoying a birthday gift from my two daughters, Nathalie and Christine, something called Salmon Country.  Being a voracious reader, I know I could get through it in one or two sittings, however I prefer to sift through it and savour the stories, the pictures as well as the ambiance. As with a good cast of my fly, I enjoy every ripple, gurgle and every page is like a take from our source of mutual admiration, Salmo Salar.
What's so interesting for me is that I have crossed paths with several of the actors in this engulfing piece of art, including yourself. You may not remember me but I was at STU at the same time as you were.  I was with the class of '71. I met Jacques in Dieppe and again at Quarryville while fishing with my son-in-law, Luc Carrier. I've been to Luc Gagné's shop on several occasions and have heard of André's work as a photographer.  He went to school with my girlfriend.
I met Debbie Norton while on a fishing trip to Upper Oxbow with my son-in-law.  I also recognized Father George Fournier on page 118.  Although in his 80′s, he still likes to get out and cast a line.  He's sitting at the front of the canoe, sporting that ever-present smile of his.  He always likes to take time to stop and chat about fishing whenever we meet.  Great reading!
I've been on the Restigouche a few times this summer and have had some really interesting action, especially our first evening at Red Bank on the 3rd of August.  My brother landed two grilse while I landed one.  I played a good-sized salmon for quite a while before it decided to practice its long distance release technique.  I also lost three more grilse on that same night.
Both my brother and I were really pumped up after that outing.  Our two partners, who were fishing farther downstream, did not fare so well on that first night, however they more than made up for it later during our trip.  I'm planning another outing next week, possibly my last for this year as I have to get ready for Moose season.  I'll be acting as guest hunter to my brother, also a STU grad (Class of '74).
Now, I have to get back to Salmon Country and get myself worked up for my next sortie. Talk to you later and of course…Tight Lines to ya!
Phil D'Amours
__________________________________________________________________________
Atlantic Salmon Federation News
Thursday, August 18, 2011
The Mid-August Atlantic Salmon Report
~~~~~~~~~~~~~~~~~~~~~~~~~~~~~~~~~~~~~~~~~~~~~~~~
With the middle of the month come new government numbers on returns, along with more angler and camp reports on the Atlantic salmon situation. Read the reports on the up-to-date ASF RIVER NOTES.
http://atlanticsalmonfederation.org/rivernotes/
Maine's Working Waterfront Covers the Nova Scotia Aquaculture Appeal
~~~~~~~~~~~~~~~~~~~~~~~~~~~~~~~~~~~~~~~~~~~~~~~~
An article provides details of the court appeal launched by ASF and its partners against the introduction of salmon farms in St. Mary's Bay in southwest Nova Scotia.
http://asf.ca/news.php?id=733
Trapnet Project in Labrador Explained in Two Languages
~~~~~~~~~~~~~~~~~~~~~~~~~~~~~~~~~~~~~~~~~~~~~~~~
An interview with Chris Montague discussing a trapnet project being jointly developed by ASF, the Metis community and other partners that will ensure large Atlantic salmon are released to continue to spawning beds.
Audio – Interview
Transmitter found in freezer
~~~~~~~~~~~~~~~~~~~~~~~~~~~~~~~~~~~~~~~~~~~~~~~~
When a Vermont angler took home an Atlantic salmon, he wasn't counting on it being tracked. Read the story.
http://asf.ca/news.php?id=730
BC's Cohen Commission About to Hear Evidence on Diseases and Aquaculture
~~~~~~~~~~~~~~~~~~~~~~~~~~~~~~~~~~~~~~~~~~~~~~~~
We have the schedule for the list of those providing information for this commission looking into the Fraser River Sockeye situation.
http://asf.ca/news.php?id=729
~~~~~~~~~~~~~~~~~~~~~~~~~~~~~~~~~~~~~~~~~~~~~~~~
To keep track of breaking news on wild Atlantic salmon, use the Atlantic Salmon Federation's presence on Facebook. Log in, search for Atlantic Salmon Federation, and click "like".
ASF's Webworks is an updating service on the world of the wild Atlantic salmon. If you wish to be added or removed from the list, email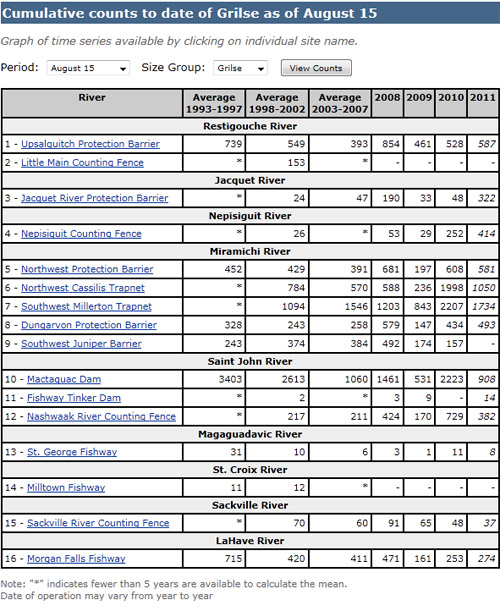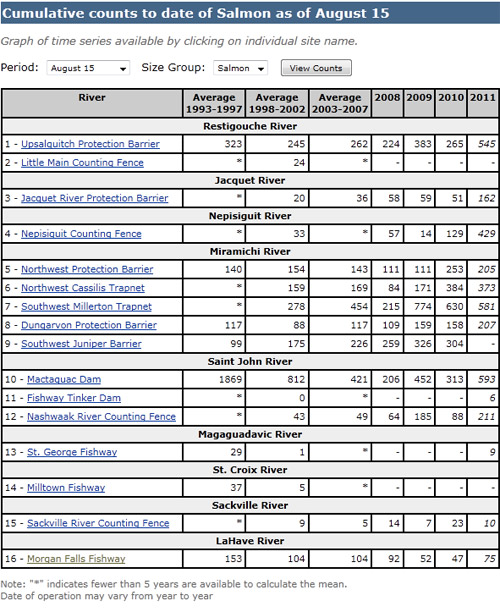 __________________________________________________________________________
Ladies Fishing Retreat
Friday Sept 9th – Monday Sept. 12th
Come Play $389.00 incl. tax or $584.00 incl. tax (accommodation  & full breakfast)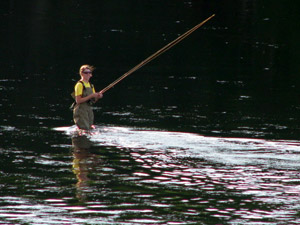 Accommodations to be pre-arranged with the "Homestead Inn" 365 7912  http://www.homesteadinn.ca
Our Ladies Fishing Retreat offers "want-to-be fly-fisher women" and those that want to improve their skills, a unique opportunity to relax on the world renowned Miramichi River.  Discover the lure that has attracted the fly-fisherman for many years and bond with women that have a common interest.  We look forward to meeting you.
For further information contact Linda at 506 365 7787 or
Register online at www.atlanticsalmonmuseum.com/events
Price Includes:
Tour of the Atlantic Salmon Museum & Historic Doak Property
Personable instructor
Special 4 day Fishing License
Fishing Pool rental & Guide fee
4 lunches & nutritional snacks
3 dinners
Angling lessons including catch & release
Conservation lessons (based on MSA First Cast)
Introduction to fly-tying & you keep your fly!
Campfire, Music & "Fish Tales"
Guided tour to Falls Brook Falls (a Miramichi treasure) or MSA fish hatchery
Canoe or kayak rental
Guided river run of the beautiful Southwest Miramichi
__________________________________________________________________________
Until next week…
TIGHT LINES,
DOUG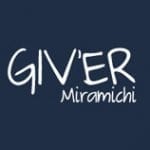 Giv'er Miramichi is about "What's up, what's new, what's happening". We are focused on building people up, supporting one another and celebrating our successes.