Miramichi Fishing Report for September 1, 2011
Here we are in September, and there certainly is no shortage of water.  Hurricane Irene drenched us pretty well, leaving all rivers very high, and in some cases dangerously high, and dirty.  The best guess by most who report on the river is that maybe by the weekend, most rivers will be fishable high.
Both the trapnets at Cassilis and Millerton had very low numbers last week.  They were taken up on Sunday before the storm and probably will be fishing again by Tuesday past.
W. W. Doak and Sons in Doaktown said the water was very high, having come up several feet.  They had received at least 3 ½ inches of rain.  Prior to the rain, angling had been good with some nice fish being caught.  Two British anglers had great luck, one catching a 24-pound salmon, while the other nabbed a 28-pounder.  There was even a fish caught Monday well up-stream from Doaktown.  By the weekend or early next week, the water should drop to a comfortable high level.
Flies of choice were Fall patterns such as Mickey Finns, Chief Needabahs, Ally's Shrimps, and General Practitioners along with White-tailed Green Machines.
Derek Munn of Ledges Inn in Doaktown and Mountain Channel in the Rapids area said angling had been quite good a few days before the rain came.  His guests were together were averaging 10-12 fish a day, and one day had hooked 20 plus fish with there being a good mix of salmon and grilse.  Three or four of these were in the 20-pound range.  Then the rain came, close to 90 ml of it (4-5 inches) bringing the river up a good 5 feet.  The only river work Monday was "pulling the benches further up the bank".  He felt angling should be reasonable by the weekend using bigger flies.
Flies of choice were Same Thing Murray as the most popular along with Shady Lady Bugs, General Practitioners, some White-tailed Green Machines and Green Butt Bear Hairs.
Herb Barry Sr. of Herb's Fly Shop on the Station Road in Blackville said there was definitely a lot of water.  It was scary to see it.  He described the Mouth of the Cains as "brown paint crashing along at 20 mph".  He estimated the river had come up six to eight feet.  He said if we don't get any more rain and it drops quickly, the weekend could be decent.  He had caught a nice grilse Sunday before the rain.
Flies of choice were Yellow-winged Butterflies as the most popular, along with General Practitioners, White-tailed Green Machines, L. T. Specials, and Shady Ladies
Curtis Miramichi River Outfitting in Blackville said there had been a lot of fish jumping on Saturday, but with the rain the river had come up close to eight feet.  They felt that it would be early next week before it was comfortable fishing again.  Canoeing this week was dangerous.
Flies of choice were big Fall patterns such as General Practitioners, Ally's Shrimps, and River Shrimps.
George Routledge of George's Fly Shop at the Mouth of Renous in Quarryville said angling had picked up a few days prior to the rain.  Anglers were picking up maybe a fish in the morning and 4 to five in the evenings.  He said Doaktown had received one of the highest amounts of rain during Irene, and on Monday the river was going through a long raise of 2 or 3 days, and then would need 4 to 5 more to get back down.  He noted it was dirty, but if it cleared there might be a few safe spots that some anglers know about, but caution was advised.  The Renous was in terrible shape, being high, fast and very dirty with debris.  He felt that the big raise in water should result in good numbers of fall fish coming in to the system.  Both the fish and anglers were moving to the Fall mode.
Flies of choice were big and bright on no 2 & 4 hooks with patterns such as Ally's Shrimps, General Practitioners, L.T. Specials, Mickey Finns and Copper Killers, along with the always popular White-tailed Green Machines, Green Machines and Shady Ladies.
Jim Laws of Miramichi Hunting and Fishing in Newcastle, Miramichi reported lots of water and slower angling until the rivers drop.  He hoped angling might get started again by the weekend.  He too had heard that angling had improved a few days before the rain.
Flies of choice were Bombers and the Fall patterns such as General Practitioners, and Ally's Shrimps.
Syd Matchett of Trout Brook Fly Shop on the Northwest Miramichi said the river was very high and would not be fishable before late this week.  Angling had been improving before the rain.  Ted Voutour had caught a grilse on Friday, and Fred Irving had landed & released a salmon, lost a grilse and landed a grilse over the weekend.
Flies of choice were White-tailed Green Machines, Shady Ladies and Green-butt Bear Hairs on nos. 6 & 8 hooks before the rain.  When the river drops, he felt anglers would be using a variety of Fall patterns on nos. 2 & 4 hooks.
Debbie Norton of Upper Oxbow Outdoor Adventures on the Little Southwest Miramichi said they too had better fishing before the rain with Serge Depuis catching a grilse on a Will Taylor Special, and a young Ontario girl landing a grilse on a Blue Ewe.  One of the coaches from the Halifax baseball team here for the Canadian Senior Baseball Nationals also lost a couple of grilse and landed one.  She felt the rivers would be unfishable until the weekend as they were very high and dirty.
Flies of choice were Blue Ewes, Will Taylor Specials and White-tailed Green Machines.
So with lots of water and apparently good numbers of fall fish beginning to enter the system, with a little patience and common sense, we should be soon back "on the water".
__________________________________________________________________________
REMINDER: Please support the businesses which sponsor this report. They make it possible.
Check out Deals 4 U in Miramichi for your grocery needs, and a very good selection of Cuban cigars to celebrate being on the rivers. Also check out their weekly specials.
Drop into Bryant Freeman's Eskape Anglers in Riverview to stock up on flies as well as any other equipment you may need such as a Redington Rod. Don't forget that this is the home of The Carter's Bug tied only the way that Bryant can tie it!
The Moncton Fish & Game Association holds monthly meetings at the rotary lodge on the 1st Monday of the month. For information about the range, membership, etc, please call (506) 351-0799. Their annual fundraising supper is on November 26.
__________________________________________________________________________
Thought for the Week: "There's no taking trout with dry breeches."  ~Miguel de Cervantes
HUMOUR: Angling Club: The local angling club was having its annual dinner and presentation of trophies. When the members arrived they were surprised to see all the chairs spaced out two meters apart. One of them said to the caterer: That's a strange way to arrange seats for a party."   He replied: "We always do it like that so that members can do full justice to their fish stories." – Anonymous
2011 Atlantic Salmon Museum – Hall of Fame – Press Release      
The Atlantic Salmon Museum, Doaktown, N.B. will host its annual "Hall of Fame Award Banquet" on Friday, September 23rd with a "meet & greet reception" at 5:30 pm followed by a traditional salmon dinner at 6:30 pm.  The price for this special event is $50.00.  A tax receipt will be issued for $25.00.  A limited number of tickets are available.  Please call 506 365 7787 to pay for your ticket or stop by the museum at 263 Main St., Doaktown.
Inductees for 2011 are as follows.
RAYMOND MELVIN HOVEY of Porter Cove (deceased), a very well known guide being one of the oldest guides on the Miramichi.
DONALD ERNEST HOVEY of Porter Cove (deceased), son of Raymond, another guide who was also a cook. Raymond & Donald will be inducted together in the GUIDE CATEGORY.
HEDLEY WATERTON O'DONNELL of O'Donnell Town (deceased), another well known guide who had the honour of guiding TED WILLIAMS for a couple of years.  Hedley will be inducted in the GUIDE CATEGORY.
DR. RICHARD SNOW (DICK) of Fredericton, a very well known personality on the river, known for fishing skills and for his strong beliefs in conservation. Dick will be inducted in the ANGLER and CONSERVATIONIST CATERGORY.
RUTHVEN STEWART of Truro, N.S. and formerly from Blackville, N.B.  He loved fishing the Miramichi and created a fishing fly called the Portapic Special. Ruthven will be inducted in the ANGLER CATEGORY.
___________________________________________________
Join us for our Annual "Hall of Fame Dinner" on Sept. 23rd
http://www.atlanticsalmonmuseum.com/salmon_hall_of_fame.html
Tickets are now available ($50 including a $25 tax receipt)
The tickets go quickly for this event!
Reserve your ticket now & pay online at: http://www.atlanticsalmonmuseum.com/id54.html
___________________________________________________
Atlantic Salmon Federation News
Thursday, August 25, 2011
ASF RIVER NOTES update on Atlantic Salmon Runs
~~~~~~~~~~~~~~~~~~~~~~~~~~~~~~~~~~~~~~~~~~~~~~~~
As it appears Hurricane Irene will add rain to most Atlantic salmon rivers in North America, ASF's RIVER NOTES gives you the latest update. Some spectacular runs continue, with best returns in decades.
http://atlanticsalmonfederation.org/rivernotes/
Dr. Kristi Miller Testifies at the Cohen Commission Inquiry
~~~~~~~~~~~~~~~~~~~~~~~~~~~~~~~~~~~~~~~~~~~~~~~~
Dr. Miller's groundbreaking research on disease and salmon was published in Science, but government muzzled any chance for the press to talk with her. The Cohen Commission was an opportunity for public interaction. Read more
http://asf.ca/news.php?id=735
Didymo or Rock Snot Still Invading Rivers
~~~~~~~~~~~~~~~~~~~~~~~~~~~~~~~~~~~~~~~~~~~~~~~~
Didymo is still spreading as an invasive species, and the felt-soled waders of anglers are one form of transmission. Article points out some states and provinces are now banning them, and at least one manufacturer phasing them out. Recently ASF Research led a workshop in New Brunswick on Didymo identification, where it is of grave concern.
http://asf.ca/news.php?id=737
To keep track of breaking news on wild Atlantic salmon, use the Atlantic Salmon Federation's presence on Facebook. Log in, search for Atlantic Salmon Federation, and click "like".
ASF's Webworks is an updating service on the world of the wild Atlantic salmon. If you wish to be added or removed from the list, email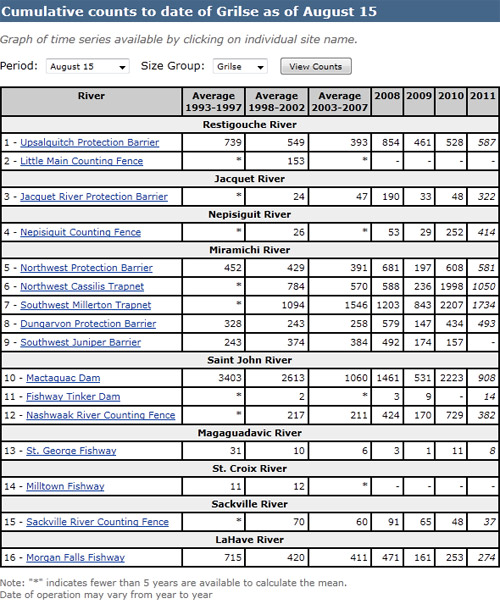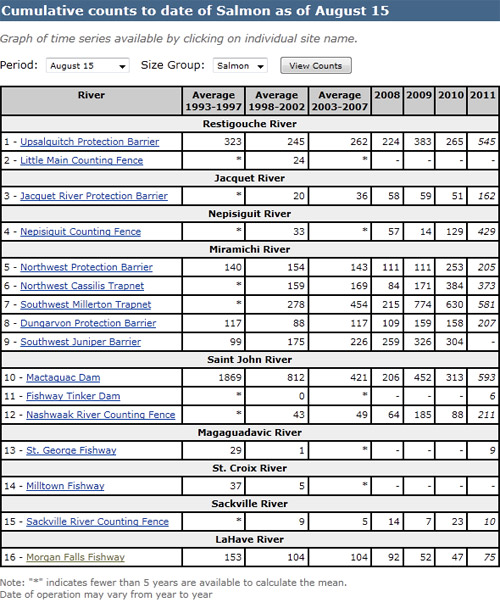 __________________________________________________________________________
Ladies Fishing Retreat
Friday Sept 9th – Monday Sept. 12th
Come Play $389.00 incl. tax or $584.00 incl. tax (accommodation  & full breakfast)
Accommodations to be pre-arranged with the "Homestead Inn" 365 7912  http://www.homesteadinn.ca
Our Ladies Fishing Retreat offers "want-to-be fly-fisher women" and those that want to improve their skills, a unique opportunity to relax on the world renowned Miramichi River.  Discover the lure that has attracted the fly-fisherman for many years and bond with women that have a common interest.  We look forward to meeting you.
For further information contact Linda at 506 365 7787 or
Register online at www.atlanticsalmonmuseum.com/events
Price Includes:
Tour of the Atlantic Salmon Museum & Historic Doak Property
Personable instructor
Special 4 day Fishing License
Fishing Pool rental & Guide fee
4 lunches & nutritional snacks
3 dinners
Angling lessons including catch & release
Conservation lessons (based on MSA First Cast)
Introduction to fly-tying & you keep your fly!
Campfire, Music & "Fish Tales"
Guided tour to Falls Brook Falls (a Miramichi treasure) or MSA fish hatchery
Canoe or kayak rental
Guided river run of the beautiful Southwest Miramichi
__________________________________________________________________________
Until next week…
TIGHT LINES,
DOUG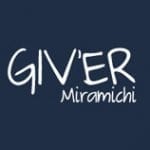 Giv'er Miramichi is about "What's up, what's new, what's happening". We are focused on building people up, supporting one another and celebrating our successes.