Miramichi Fishing Report for October 6, 2011
As we move into the final weeks of the season for most rivers, there are positives and negatives. On the plus side, there are very good numbers of fish being report across the system, although not many fresh ones. The negative is that in some places they are not taking well and are hard to hook. The water is also high in some places.
The counting fences at both Cassilis and Millerton are both reporting very few fresh fish each day, and some days none. Yet, anglers are catching some darker fish with sea-lice.
MSA Hatchery Manager Mark Hambrook said the hatchery staff will be starting the hatchery spawning process next week. They will be doing this on alternate days and only in the mornings. If anyone is interested in observing the process, please contact the hatchery at (506)622-1781. There is no admission fee.
W. W. Doak and Sons in Doaktown said angling was a sort of mixed bag this week. Some spot were having very good angling with some limiting out, while other spots were stagnant. There was a good mix of salmon and grilse, and most of the fish being caught were dark, but the rain had them moving and active. The Doaktown area received a few inches of rain, but it was reported that above them, areas received more.
Flies of choice were all over the map with some having success on Shady Ladies, White-tailed Green Machines, and Undertakers on nos. 6 & 8 hooks while others were using traditional Fall patterns such as General Practitioners, Ally's Shrimps, Copper Killers and Rusty Rats. Besides big and small, and light and dark, some were also using Dry Flies and Bombers.
Derek Munn of Ledges Inn in Doaktown and Mountain Channel in the Rapids area said they were having good fishing. Anglers had caught three on the Cains River Wednesday, and over the previous five days guests had hooked 80 fish. There was a good mix of salmon and grilse with a lot of the salmon in the 12-20 pound range, and a few 20-plus pounds. He said the water had risen about a foot at Ledges, although the Cains could use a tad more. He expected good fish until the season's end.
Flies of choice were General Practitioners, Green Slimes and Pot Belly Pigs ((an English fly with yellow and orange and Jungle Cock eyes)
Herb Barry Sr. of Herb's Fly Shop on the Station Road in Blackville said there were barrels of fish around, but they were not taking well. Anglers were however, seeing lots, especially some very good sized salmon. He had watched one evening and saw about 25 salmon all over 10 pounds, but they were very dark. The water had come up a foot on Tuesday and was reported holding on Wednesday. He was expecting it to drop off by the weekend and was looking for some good angling then.
Flies of choice were General Practitioners, Ally's Shrimps, Tippet Shrimps, L.T. Specials and Red Squirrel Tails with orange butts.
Curtis Miramichi River Outfitting in Blackville said anglers were seeing lots of fish, but were only catching a few. Water levels were up and on the rise Tuesday.
Flies of choice were None-of-your-Business, along with Christmas Trees and Ally's Shrimps.
George Routledge of George's Fly Shop at the Mouth of Renous in Quarryville said angling was pretty slow there with about 2 or 3 the total of a day's catch. The water was a tad high, but the numbers of fish around was very good, and went for all rivers in the system. There were some fresh fish with sea-lice, but they were dark. Anglers were seeing 35-40 a day jumping, but they were not interested in taking a fly. While at George's, pick my book Salmon Country and Paul Marriner's new book Modern Atlantic Salmon Flies for sale. Both are $45.00
Flies of choice were No. 8 Shady Ladies, nos. 6 & 8 White-tailed Green Machines, along with Ally's Shrimps, General Practitioners and L. T. Specials on hooks no bigger than no. 6.
Jim Laws of Miramichi Hunting and Fishing in Newcastle, Miramichi reported angling as being a bit slower this week. The water levels had come up and probably would raise more with the rain Wednesday. However, anglers were seeing good numbers of fish even if they were not catching as many as they might like. A decent mix of salmon and grilse was being reported.
Flies of choice were General Practitioners, Ally's Shrimps, L.T. Specials and still some White-tailed Green Machines.
Syd Matchett of Trout Brook Fly Shop on the Northwest Miramichi said angling was good with a decent mix of salmon and grilse being reported. Jon Saunders had caught a grilse on Friday, and Alvin Bell had caught three fish on Friday, one on Saturday and two on Monday. The water was up, but still fishable.
Flies of choice were Black Ghosts, Ally's Shrimps, L.T. Specials and Red-butt Bear Hairs
Debbie Norton of Upper Oxbow Outdoor Adventures on the Little Southwest Miramichi said they were still doing some catching. John Wood from Ottawa was the Senior Member in camp and the high man with a 21-pound salmon. Dianne Wenham of Bass River, NS hooked a 20-pound salmon. There were also some grilse caught, but angling was a bit tough as the water was high after the rain. She was hoping for it to pick up by the weekend and expected a strong finish to the season.
Flies of choice were Maribous, General Practitioners and Mickey Finns
So with a long weekend ahead, nicer weather in the forecast and good numbers of fish around it is time to be "on the water" while throwing in a little "Blast 'n Cast".
__________________________________________________________________________
REMINDER: Please support the businesses which sponsor this report. They make it possible.
Check out Deals 4 U in Miramichi for your grocery needs, and a very good selection of Cuban cigars to celebrate being on the rivers. Also check out their weekly specials.
Drop into Bryant Freeman's Eskape Anglers in Riverview to stock up on flies as well as any other equipment you may need such as a Redington Rod. Don't forget that this is the home of The Carter's Bug tied only the way that Bryant can tie it!  Pick up a supply of the Fall patterns while you are there.
__________________________________________________________________________
Thought for the Week: "Men and fish are alike.  They both get into trouble when they open their mouths.  ~Author Unknown
HUMOUR: "The two best times to fish is when it's rainin' and when it ain't." ~ Patrick F. McManus
CONDOLENCES:  Our thoughts and prayers go out to the family and friends of John MacLennan who passed away this week after a long battle with cancer.  He was my long-time friend and angling buddy, and I will miss him dearly!
__________________________________________________________________________
Atlantic Salmon Federation News
Thursday, September 29, 2011
Perfect Atlantic salmon conditions
~~~~~~~~~~~~~~~~~~~~~~~~~~~~~~~~~~~~~~~~~~~~~~~~
This week's ASF RIVERNOTES mentions that conditions are nearly perfect in many of the Atlantic salmon rivers, and fish are continuing to make their way upstream to spawning areas. Read details.
http://atlanticsalmonfederation.org/rivernotes/
A posting by CHARLES GAINES on the remarkable salmon returns
~~~~~~~~~~~~~~~~~~~~~~~~~~~~~~~~~~~~~~~~~~~~~~~~
Charles Gaines posted an article Are Atlantic salmon on the way back? in the Orvis News. It focuses on the increase in large salmon numbers this year. Well worth reading.
http://www.orvisnews.com/FlyFishing/The-Return-of-the-Atlantic-Salmon.aspx
Salmon being tracked within inner Bay of Fundy – video & article
~~~~~~~~~~~~~~~~~~~~~~~~~~~~~~~~~~~~~~~~~~~~~~~~
ASF has been a partner in an inner Bay of Fundy tracking program that last week released adult Atlantic salmon. The research goal is to discover how many return to their river of origin. There is both a written article and a VIDEO clip on the release of the fish, with ASF's Jonathan Carr interviewed.
http://asf.ca/news.php?id=762
Court Convictions in Newfoundland
~~~~~~~~~~~~~~~~~~~~~~~~~~~~~~~~~~~~~~~~~~~~~~~~
In Newfoundland, the courts take seriously the rules regarding fishing and poaching. Read the latest set of convictions, since the beginning of August.
http://asf.ca/news.php?id=763
~~~~~~~~~~~~~~~~~~~~~~~~~~~~~~~~~~~~~~~~~~~~~~~~
To keep track of breaking news on wild Atlantic salmon, use the Atlantic Salmon Federation's presence on Facebook. Log in, search for Atlantic Salmon Federation, and click "like".
ASF's Webworks is an updating service on the world of the wild Atlantic salmon. If you wish to be added or removed from the list, email
From The Atlantic Salmon Museum:
It is time once more to say goodbye to all of our little salmon fry! Two weeks from now, October 15th, we will hold our annual fish release. Come to the museum & grab your lunch from our BBQ, watch (or participate) in the lumberjack competition and take part in our fish release!  Wrap it all up with 10% – 50% off in our gift shop! If you are unable to make it keep an eye on our website for the photos to be uploaded. http://www.atlanticsalmonmuseum.com/id53.html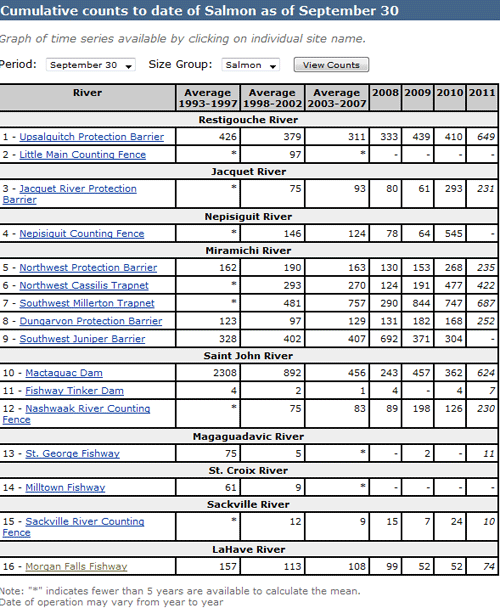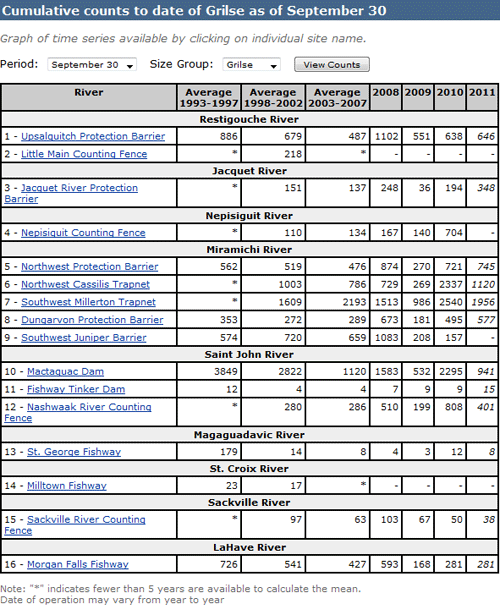 Have a HAPPY Canadian THANKSGIVING!
Until next week,
Tight Lines,
Doug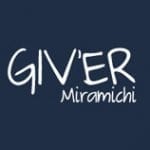 Giv'er Miramichi is about "What's up, what's new, what's happening". We are focused on building people up, supporting one another and celebrating our successes.