The Importance of New Beginnings

You reach a certain stage in life when it seems there are more endings than beginnings. In his epic book, Think and Grow Rich, Napoleon Hill says that most people have given up their dreams by mid-forties. There are many ways to die.
I got thinking about this as I sat parked in front of the building that once housed our flooring business. It's slated for demolition. It looks broken, used up, nothing like it once was.
I thought I might get a sense of soul if I went there just once more. I was mistaken. Gone is the laughter, the blood, sweat and tears. It used to vibrate with our passion and dreams.
I now get to view it all through rose-coloured glasses. I can let go of the struggles and remember the success. Brian and I would often look at one another and say, "We have the best customers!" It was a zoo in there. One former employee said, "It was a fun place to work."
The ambiance was such that our customers would come and linger: perhaps on the showroom couch, sipping fresh coffee, meeting their friends and sharing their news. Come, sit awhile. Times have changed.
It's important to begin again. With each passing, we must create a new adventure. There is no failure in life other than doing nothing.
It's all too easy to charge through life, breathless, numb and missing the meaning, the beauty and the possibilities for rebirth.
Entrepreneurs have an opportunity to truly express who they are and create a great experience for both staff and customers. Don't miss that! And, if you are in a job or career you hate, one that violates your deepest values, move on.
Begin again – because you can.
Feeling stuck? Call me.
Warmest regards,
Sharon
This post was submitted by Sharon Cowan.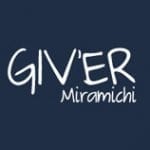 Giv'er Miramichi is about "What's up, what's new, what's happening". We are focused on building people up, supporting one another and celebrating our successes.