5th Day of Christmas: Poetry from Annabel Sheila
Santa Will Soon Be Here
There's a bustle in the toyshop
So much work to be done!
The elves are busy as little bees
Making toys for everyone!
Santa in his work clothes
Whistling Christmas tunes!
Working right beside the elves
Christmas will be here soon!
There's dolls and planes and lego blocks
Bikes and trains and games,
Millions of toys for girls and boys
That Santa knows by name!
The reindeer are getting excited
It's almost Christmas Eve!
They'll bring toys around the world
To children who believe!
Mrs. Claus humming softly
A smile on her dimpled cheeks!
She's making magic cookie bars
For Santa's reindeer to eat!
Those cookies are very special
And here's the reason why!
When the reindeer eat them up
They begin to fly!
Santa's lists have all been checked
It's the best time of year!
There's a Christmas feeling in everyone
Cause Santa will soon be here!
– Annabel Sheila
The Joy Of Christmas
Wrapped in warm Christmas memories of yesteryear
Each one of them like a precious knick-knack,
A little worn, faded a bit around the edges
But always worthy of a special place at Christmastime!
A family of nine testing the strength of our little house
That fairly bulged at the seams with happiness and love!
Fresh boughs in the wreath on the front door
Their invigorating scent a warm welcome
To family and friends that come to share good tidings.
The Christmas tree, our gift from the forest,
Far from asymmetrical but perfect!
Shiny lights and pretty ornaments, some of them old as time!
Mom and Dad busy in the kitchen, friends dropping by…
Familiar Christmas songs in the air; everyone singing along
With their own version of the lyrics!
How vividly I remember those Christmases!
And while those days are long gone
The wonderful memories are mine to keep!
I understand Christmastime can be nostalgic.
Feelings in shades of blue tugging at the heartstrings…
But I also realize to have those feelings is a blessing!
For are they not evidence that one has truly known
The joy of Christmas!
–Annabel Sheila
Annabel Sheila is a frequent contributor to Bread 'n Molasses magazine. She lives in Moncton, NB.
Leave a comment on this post and you'll be entered to win a signed copy of Miramichi author, Doug Underhill's latest book entitled Salmon Country. We'll draw one winner from everyone who comments on any of our special holiday themed posts for our annual Twelve Days of Christmas event!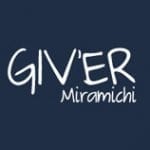 Giv'er Miramichi is about "What's up, what's new, what's happening". We are focused on building people up, supporting one another and celebrating our successes.