Miramichier Launches New Book on Filmmaking
Originally from Millbank in Miramichi, Suzanne Lyons is a Hollywood producer and an award-winning filmmaker. She co-founded Snowfall Films, WindChill Films Inc., and the Flash Forward Institute. Her films have been distributed by Miramax, Disney, Lionsgate, and ScreenGems.
With over 25 years experience in television and film, Suzanne also conducts highly successful workshops on producing and has just published a book through Focal Press called Indie film Producing… The Craft of Low Budget Filmmaking.
Focal Press has been a leading publisher of Media Technology books for 70 years. They provide essential resources for professionals and students in many areas including: film and digital video production.
Indie Film Producing explains the simple, basic, clear-cut role of the independent film producer. Producing your dream project, creating award-winning films on a low budget, putting name actors on your indie film—it's all doable, and this book guides you through the entire process of being a successful producer and how to successfully maneuver through the sphere of social media marketing and fundraising tactics.
Suzanne pilots you through the actual making of low budget films to show you how
easy and fun it can be. Laid out in a step-by-step, A to Z, matter-of-fact style that shows you how the producer's role can be easy, how to treat the film as a business, and especially how to avoid the painful pitfalls faced by so many producers, this book gives you the essential tools you need to make your film a success from the ground up.
It begins with the earliest stages of concept development, continues through production & post, and ultimately concludes with distribution. Suzanne shows you how to create a buzz for your film through marketing and promotions. Indie Film Producing contains interviews with global producers who have produced films using social media, festivals, apps, and more, giving you real-world insight that can be applied to your own films.
For more information about Suzanne visit her website www.suzannelyons.net. You can buy her book directly from the publisher or it's also available at Amazon.com.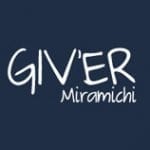 Giv'er Miramichi is about "What's up, what's new, what's happening". We are focused on building people up, supporting one another and celebrating our successes.