By Cindy Rule
Imagine this:  It's a cold winter morning and as you pull into your parking spot behind the shop where you work, your mind is full of worries about things that haven't happened and guilt over things that have.
You open the back door, stomp the snow off your boots and as you wonder how long it's going to take to shake your sour mood away, you hear the sound of feet on the floor in front of you. Soon after you feel a nose press against your hand followed by a head that wants to be petted. You look down and smile at your co-worker.
You look down and smile at Maxx.
Or at least, for many of my days at Saltwater Sounds, this is how my day would begin. In October, 2008 I was given the gift of minding one of the most unique stores in Miramichi, New Brunswick, and awarded the privilege of working with one of the most loved dogs in town.
For those of you who know Maxx, you will know that I am talking about "the doggy in window", the beautiful, kind-hearted, gentle Boxer; the dog who kept vigil in the store window of Saltwater Sounds for over 10 years; Maxx, who was more than just a dog. She was the heart and joy of the shop until her passing in mid-April.
Her sweet face gazing out at Water Street stopped many in their tracks. Dogs are not uncommon in Miramichi, but a dog sleeping in a comfy bed in the window, sometimes staying as still as statue would cause people to slow down and not be in such a hurry. They would stop, sometimes tap on the glass, and smile as she looked back at them with her gentle expression. Sometimes she would be mid-nap and the surprise of the stranger finding a dog in a place they didn't expect, would go peacefully unnoticed.
"Look a dog!"
"Is it real?"
"Say hi to the doggie!"
Every day as I sat in Saltwater Sounds, I would hear these sentences and more. However, for some people, just looking at Maxx through the window simply wasn't enough. The person, or people who could not allow themselves to walk by without actually meeting the dog in the window, would come into the shop to see her. Maxx, more often than not, would immediately jump up, stretch in her bed and wag her wee tail in pure joy as she made another friend.
People loved Maxx as much as she loved them. She was the perfect dog. Sweet, kind, gentle with children, attentive to those who really wanted her attention and for those people who came into the store who were not really dog people, she would give them a sniff and then give them space. She could read people. I suppose a lot of dogs can, but with Maxx she always seemed extra in tune to the feelings of people around her.
There are people in town or people who visit Miramichi every year who don't pass by Saltwater Sounds without coming by to say hello to Maxx. She was the lucky recipient of many dog treats. She always returned the gifts with a heavy lean on the givers legs and a panting grin when they gave her what she really wanted: a really good scratch on her back.
When some people left the shop, they would sign our guest book. Phrases such as "Lovely dog!" or "It was nice to meet Maxx." grace the pages.
While I worked with Maxx I saw many people who were sad when they came into the store leave a little happier after a visit with her. I've had people come into the shop specifically because they were down and wanted a little Maxx time.
Maxx's passing is not easy for those of us who knew her best and from the comments on various social media websites and visits to Saltwater Sounds to give condolences it is obvious that Maxx's passing is being felt beyond the shop, beyond the window.
In the window where Maxx took thousands of naps, there is now a picture. It is a beautiful picture of her, one that captures her gentle spirit and her sweet face to perfection. She will be greatly missed because, as I said, she was so much more than just a dog. Like the shop she graced her presence with, she was unique, comforting and made you feel at home.
She was special.
She was Maxx.
Cindy Rule is a frequent contributor to Bread 'n Molasses magazine.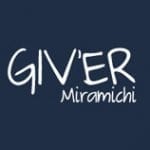 Giv'er Miramichi is about "What's up, what's new, what's happening". We are focused on building people up, supporting one another and celebrating our successes.