Miramichi Fishing Report for Thursday, July 5, 2012
Let's start with the positives.  There certainly is no shortage of water, and there are new fish moving into the system in reasonable numbers, and anglers are seeing good numbers, even if they are not taking as well as we might like.  However, there is sure a lot more excitement along the system, even if this is not "the run" we have been waiting and hoping for.  Perhaps the last couple of years have spoiled us a bit.
The trapnets were up for a couple of days last week due to high water, but started fishing again on Sunday.  Sunday there were 13 grilse and one salmon at Millerton, three grilse and two salmon Tuesday and nine grilse and five salmon on Wednesday.  Generally the counts at Cassilis were about the same.
To date the cumulative counts at both these sites since the beginning of the season are as follows:  At Cassilis, 19 salmon and 108 grilse, while Millerton had 75 salmon and 121 grilse.  (See the charts near the end for comparisons)
Doug White's Tammerack Sports Fly Shop in Juniper said the waters are receding and people are raising salmon but there is little catching going on. In a couple of days the pools will be easier for all to access where as of now it's pretty much canoe only. This weekend will tell the tale of just how many salmon were in this latest run.
Flies of choice are Silver Down East, Jigaboos in size 4 and Green machines in size 4 and 6
W. W. Doak and Sons in Doaktown said angling this week was much better than last.  Angling in the Doaktown to Boiestown area began to pick up Tuesday as the water began to drop.  One angler hooked three fish in two days.  The water was still high, but dropping nicely there, but was still a bit high in the Blackville area.  Generally, anglers were seeing more fish, with a good mix of salmon and grilse.  Some anglers were using slow-sink leaders in the higher water, but things should be back to normal today.
Flies of choice were Same-Thing-Murrays, Shady Ladies, Bear Hairs and White-tailed Green Machines on nos. 4 & 6 hooks.  Earlier this week anglers were using flies with orange such as Copper Killers, Ally's Shrimps and General Practitioners.
Derek Munn of Ledges Inn in Doaktown and Mountain Channel in the Rapids area said angling was really good, 100% better than last week.  They have been getting a few fish every day.  One sport lost three and landed three on Tuesday.  The water was still a tad high but fishable on Tuesday, but quickly moving to a perfect height.
Flies of choice were Green-butt Squirrel Tails, White-tailed Green Machines and Shady Lady Bugs.
Herb Barry Sr. of Herb's Fly Shop on the Station Road in Blackville said he caught a grilse on Monday and lost another Tuesday.  Generally, there seems to be good numbers of fish around, and anglers are seeing fish, but they are not taking well, with only a few being caught here and there.  If the water drops another foot, he predicted good fishing.
Flies of choice were a double-butt White Butterfly, some Bombers and Killer Whiskers, White-tailed Green Machines, Undertakers, Rusty Rats and Same-Thing-Murrays on no. 6 hooks.
Curtis Miramichi River Outfitting in Blackville said the water was still high in the Blackville area, with anglers still using motorboats.  Anglers were picking up the odd fish, but generally, the numbers were just starting to move through.
Flies of choice were Same-Thing-Murrays, White-tailed Green Machines, White-tailed Green Machines with a red butt and Krystal Flash, Black Ghosts, Christmas Trees, Undertakers and Green Highlanders.
Jim Laws of Miramichi Hunting and Fishing in Newcastle, Miramichi reported an improvement in the number of fish within the system and being hooked, and certainly a big boost in water levels.  As the levels drop off to reasonable ones this week, angling should continue to be better than last week.
Flies of choice were White-tailed Green Machines, Black Ghosts and Undertakers.  He predicted by week's end anglers may also be using some dry flies.
Syd Matchett of Trout Brook Fly Shop on the Northwest Miramichi said there was a big improvement over last week.  Heavy rains had raised the rivers and brought in more fresh fish.  There was no concentrated run like we had last year, but there were good numbers being seen and hooked.  Decent numbers of fish were hooked and released above Wayerton Bridge with six caught at one pool.  Rick Miller's grand son hooked a 12-pound salmon, and Rick said it was on a secret fly, but added with a grin, "Everyone should have a Red-butt Yellow Butterfly in his or her tackle box."  Rick's other son had hooked a grilse, but was paying too much attention to "a lady" on shore and lost the fish.
The Squirrel's Fall Crown Reserve Stretch produced three grilse hooked and released by a party which came out Saturday.  Blackie MacDonald and Bill Sargent both were into fish this past week.  There were other fish hooked here and there along the river, and with the full-moon on Tuesday past, angling should continue to be good for a while.
Flies of choice were Red-butt Yellow Butterflies, White-tailed Green Machines, Black Ghosts, Shady Ladies and Undertakers.
Debbie Norton of Upper Oxbow Outdoor Adventures on the Little Southwest Miramichi said they were seeing some fish, but they were not taking well.  Her sports had lost three on Monday, while Judy Daniels of Dover, New Hampshire caught her first ever grilse on Tuesday.  Marina Chase of Grotton, New Hampshire also caught a grilse.  One of Norton's other guests was Michael Mauri, a Spey-casting instructor from Europe.  Guests have been fishing both from boats and by wading.
Debbie also has an overly friendly Black Bear who loves getting into her garbage and making a nuisance of himself.  "If he's not careful he'll be turned into a Black Bear Hair with a green butt" said Norton.
Norton said the MSA's Annual Salmon Classic goes Sunday to Wednesday.  One participant will be Walter Geryk of New York who will give Spey-Casting demonstrations for the participants.
Flies of choice were White-tailed Green Machines and Butterflies.
So as the water drops off, conditions and fish numbers warrant that we should get out and "on the water".
Don't forget to show your support for our sponsors, because without them, this column would not be possible. 
Check out Deals 4 U in Miramichi for your grocery needs, and good Cuban cigars to celebrate getting back to the rivers.
Drop in Bryant Freeman's Eskape Anglers in Riverview to stock up on streamers for spring angling as well as any other equipment you may need such as a Reddington Rod.
Miramichi City Surplus on the outskirts of Miramichi in the Lower Derby road offers a nice range of rods, reels, tackle, bait and other outdoors supplies and hunting needs.  Be sure to also bring along your recyclables.
ANY FINANCIAL CONTRIBUTATIONS TOWARD HELPING WITH THIS COLUMN ARE GREATLY APPRECIATED: Click here to donate now.
Thought for the Week: "Soon after I embraced the sport of angling I became convinced that I should never be able to enjoy it if I had to rely on the cooperation of the fish."  Sparse Grey Hackle
RIVER-LORE:  Fish don't take well on the New Moon (also called the Dark –side of the Moon)
E-MAIL:
Atlantic Salmon Federation News
Thursday, June 28, 2012
Read ASF RIVERNOTES for June 28
~~~~~~~~~~~~~~~~~~~~~~~~~~~~~~~~~~~~~~~~~~~~~~~~
Rain has finally come to many Atlantic salmon rivers that need the cool drop in temperature and rise in levels. But is it too much?
http://atlanticsalmonfederation.org/rivernotes/
The Penobscot Roars
~~~~~~~~~~~~~~~~~~~~~~~~~~~~~~~~~~~~~~~~~~~~~~~~
Last Saturday the Great Works Dam was finally breached during a multi-million dollar demolition project that began on June 11. Interesting photo perspective on restoring the Penobscot River and reconnecting it with the ocean.
http://asf.ca/news.php?id=907
A Balance of Salmon News
~~~~~~~~~~~~~~~~~~~~~~~~~~~~~~~~~~~~~~~~~~~~~~~~
Paul Smith in Newfoundland provides an interesting viewpoint on the Atlantic salmon season and the NASCO deliberations this year.
http://asf.ca/news.php?id=906
WaveGlider Still Surfs the Gulf of St. Lawrence
~~~~~~~~~~~~~~~~~~~~~~~~~~~~~~~~~~~~~~~~~~~~~~~~
The WaveGlider operated by the Ocean Tracking Network of Dalhousie University continues to follow its predetermined track across the Gulf of St. Lawrence. Check in on its progress, as it attempts to find smolts with transmitters that are part of ASF's at-sea survival research.
http://glider.ceotr.ca/waveGlider.html
~~~~~~~~~~~~~~~~~~~~~~~~~~~~~~~~~~~~~~~~~~~~~~~~
To keep track of breaking news on wild Atlantic salmon, use the Atlantic Salmon Federation's presence on Facebook. Log in, search for Atlantic Salmon Federation, and click "like".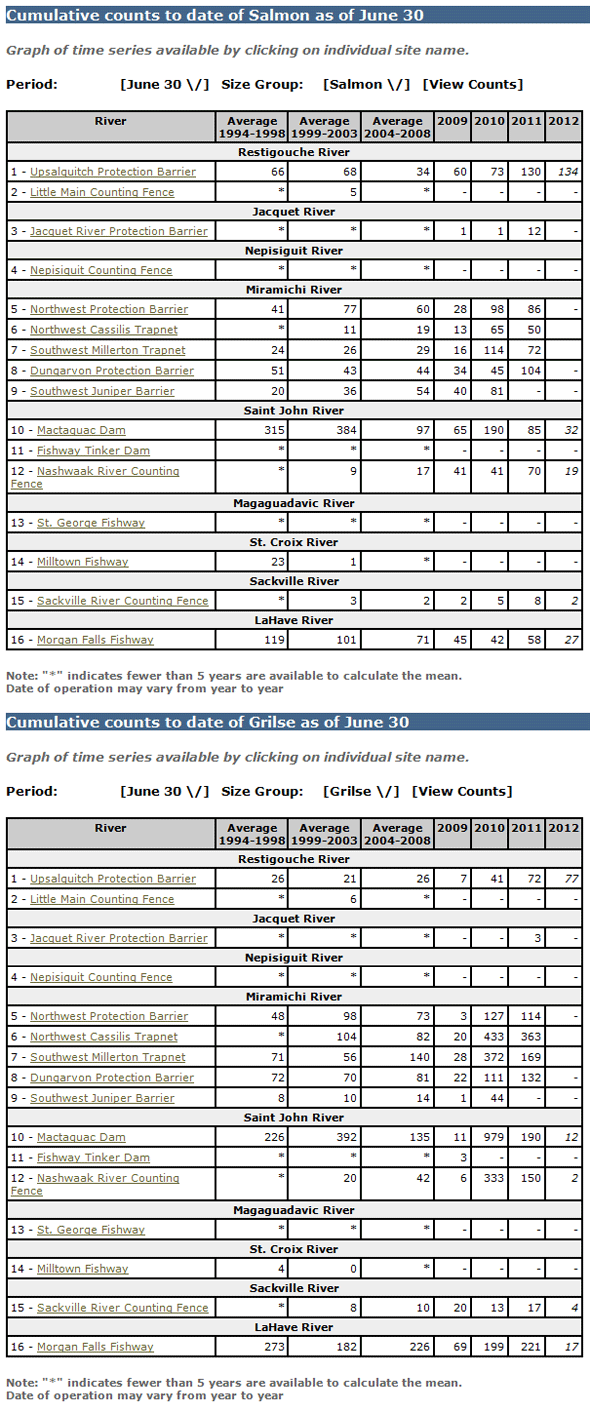 Until next week
TIGHT LINES
DOUG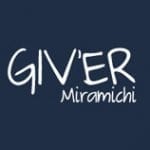 Giv'er Miramichi is about "What's up, what's new, what's happening". We are focused on building people up, supporting one another and celebrating our successes.