Blackville Childhood Memories
by Pat Fournier
Dedicated with love to my big sister, Katherine, who led many of our childhood games, and thus helped create these memories.
Remember …
As I look back on the life I've lived through to this point in time,
Fondest memories are of my childhood, and they are treasures in my mind.
And I wonder at the things we did, and the fun we had back then,
These memories that prompt to ask the question: "Do you remember when … ?"
Do you remember playing softball, with a board Daddy carved for a bat?
And running to tag the rocks and trees, which was where the bases were at?
And we all wanted Pat to be on our team, 'cause he could hit the ball so far,
That someone had to look for it, in the trees beyond the yard.
The score wasn't that important, as we played ball with our friends,
Until the daylight turned to darkness, and our mothers called us in.
Remember swimming at "The Red Gate"? Flattening pennies on the railroad track?
Hula hoops? Hatfield potato chips? The swing tree in the yard out back?
Change cups swinging on overhead wires, down at Tuzo's grocery store?
The white over-the-shoulder uniform belts, that the "School Patrol" boys wore?
Going to sock hop dances, and learning how to twist and jive?
Cinch belts and penny loafers? Putting vinegar on Frenette's French fries?
Remember the Halloweens we had? We'd plan for them for weeks;
Planning costumes that we'd make ourselves, but they were secrets we couldn't keep.
And we'd laugh so hard that the tears would surely roll down from our face,
Seeing Johnny and Ronald in dresses, made up in rouge and lace.
And is Johnny's prank still secret, or has it been told before,
How he pulled the front step clean away from Marie MacKenzie's door?
Remember the St. Patrick's Day concerts, held in the Catholic Church hall?
Allan Washburn would sing "Irish Lullaby", with top hat and cane and all.
And Monica Donahue, behind the scenes, would prompt the actors their lines,
While chocolate, walnut, and angel fudge, was sold in a bag for a dime.
And between the acts we'd run to Urquhart's store across the road,
To buy our pop and treats and stuff, then rush back to enjoy the show.
Do you remember all the games we played: Giant Steps? Tag? Red Light?
Remember Daddy's chickens? And the licorice pipes he liked?
Remember the theme from "A Summer Place"? "Hit Parade" on TV?
And our milk frozen solid, out on the step, with its little cap of cream?
Do you remember going fishing, up at Underwood's brook?
And Marjorie scared of the wiggling worms, and Daddy baiting her hook?
Remember picking blueberries, up in the field where horses grazed?
We'd head out packing a picnic lunch, having planned to spend the day.
And "I'm dumping" shouts proclaimed to all that we had emptied out our cup,
Contributing our clean-picked berries to the bucket filling up.
And if by chance we had more berries than we could ever cook,
We'd sell some, going door to door, to buy our second-hand schoolbooks.
Remember Mass on Sunday mornings, done up in our Sunday best,
And to communion (after Friday's confession, our little sins confessed)?
And Lenten evenings saying the rosary, and trying hard not to giggle,
As Mommy strictly looked our way, (but we were only very little!)
And Father Nowlan jingling pocket change, looking sternly at us all,
At the Saturday afternoon cowboy shows, down in St. Raphael's hall?
Remember our two-story schoolhouse, and the smell of Dust-bane on the floor?
Remember Mr. Green, in his stocked up van, selling clothing door to door?
Do you remember Mommy's brown bread, still hot right from the pan?
And skating on Bartholomew River, burning tires to warm our hands?
Lime ricky pop? And poodle skirts? Katherine's "Roy Rogers" guitar?
Getting buckets of water from the hand pump over by Jim MacKenzie's yard?
Remember the concert we made ourselves, in our shed one summer day?
We charged each kid a nickel, and even our moms came to the play.
Seems there'd been a murder, as the "body" lay on the floor of the shed,
And Mrs. Walls laughed, as did we all, at "Poor Teddy, still laying there dead."
And Katherine, she being the murderer, was arrested for the crime,
When Paddy, the Mountie, took her away, but he forget to say his lines!
Remember the culvert that went under the road, connecting both the ditches,
And crawling through, one side to the other (putting Mommy in nervous stitches)?
Our house was on one side of the road, with Aunt Greta's on the other,
And even old Laddie would crawl through with us. (Thank God we didn't smother!)
Then as if to prove for certain that we were lacking in any sense,
We'd dare each other to touch a finger to Hennessey's electric fence!
And remember the sliding hills that Daddy made with piled up snow?
We'd clamber up with cardboard "sleds", and laughing, down we'd go!
And remember the Christmas times we had? Such good times that we shared!
We'd hang the balls on the Christmas tree, and Mommy hung the angel hair.
And walking down to Midnight Mass, with snow crunching 'neath our feet!
Ah! Those silent nights of long ago will never again repeat.
These memories dear have surely helped in the making of who we are,
And what we've become and learned and done have taken us this far;
And all of these, and many more, are memories I fondly cherish,
Of the times we had, back in our youth, in our little Blackville parish.
– Pat Fournier, Dartmouth NS
This post was submitted by Pat Fournier.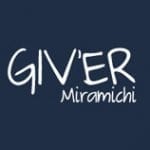 Giv'er Miramichi is about "What's up, what's new, what's happening". We are focused on building people up, supporting one another and celebrating our successes.