Miramichi Fishing Report for Thursday, August 16, 2012
MIRAMICHI – Not a lot has really changed since last week.  We did receive some rain, which was certainly welcomed, but it was far from being enough, and the water temperatures have been akin to bath water.   Very few people are even on the rivers.  The report from the counting fences was that it was a good day if they had one fish.
In the meantime, most anglers are in the waiting mode.  Rain forecast for today and in the next few days will certainly help, but it remains to be seen if it will be even close to enough.
There has been another clarification Variation Order regarding the tributaries of some rivers.  (see below).
Hello all,
This Variation Order is to fix a couple of loopholes that were found in the previous order VO 2012-061.
The changes apply to the Little Southwest Miramichi River and the South Branch of the Southwest Miramichi River.
Little Southwest River: Close times for various fishing methods to all species now apply to all tributaries in the Little Southwest Miramichi River; including North Pole Stream, Lower North Branch of the Little Southwest and Tuadook River.
South Branch of the Southwest Miramichi River: Close times for various fishing methods to all species now apply upstream to the Highway 107 bridge at Foreston.
Thank you,
Pierre Bélanger
Please refer to Gulf Variation Order 2012-061 for further details. The Fishery Closures / Variation Orders Registry are available online at:
http://www2.glf.dfo-mpo.gc.ca/fam-gpa/cp/ord/index-e.php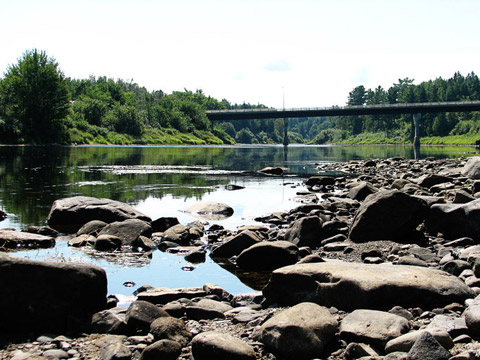 Doug White's Tammerack Sports Fly Shop in Juniper said last week I reported the river was only running two days a week.  Well today isn't one one of them. The water just keeps falling and the only thing to benefit is the Mergansers. These vermin are having a field day with the little ones near fully grown and they are really sucking the fish back. One time the wardens would shoot them on sight, but now they are protected. To sum up, no water and no fish.
No flies of choice this time
W. W. Doak and Sons in Doaktown said they had received a small increase in the amount of water in the river with a raise of 5 to 6 inches, but it was certainly not near enough to resume normal angling.  They reported one fish caught in the past week.  The majority of angling was only taking place at private camps with cold water pools.
Flies of choice were White-tailed Green Machines, Shady Ladies, Undertakers and Bear Hairs on nos. 8 & 10 hooks in wets, along with a variety of Dry Flies and Bombers.
Derek Munn of Ledges Inn in Doaktown and Mountain Channel in the Rapids area said they had received a little raise in water, it it was not nearly enough.  There were a few fish around, but they were not taking due to very warm water.  Basically, they were not fishing.
Flies of choice were Dry Flies and Bombers.
Herb Barry Sr. of Herb's Fly Shop on the Station Road in Blackville said the only fish around were a few dead ones that were cooked and on the rocks.  He had heard of four, including one big salmon, in such a condition.  They had received about an inch raise in water, but it was a warm raise and didn't bring down the already very high water temperatures.  Basically no one was fishing.
Flies of choice were Bombers and a few wets, most of which were bought as a birthday present.
Curtis Miramichi River Outfitting in Blackville said they had heard on only a couple of fish caught in the last week.  There had been a raise of 3 to 4 inches in water levels, but it was dropping off again very quickly, and still very warm.  However, canoeing was still quite good from the Mouth of the Cains down river.
Flies of choice were small Shady Ladies and White-tailed Green Machines.
George Routledge of George's Fly Shop at the Mouth of Renous in Quarryville said angling conditions were not much better than last week's report.  The Renous did raise about a foot and the Main Southwest came up about 10 inches, but the levels were still too low to fish and the temperature of the water was a comfortable bath temperature.  No one was even suggesting that closed areas and restrictions be lifted.
Flies of choice were White-tailed Green Machines and a variety of blues such as Smurfs, Blue Charms and Bombers.
Jim Laws of Miramichi Hunting and Fishing in Newcastle, Miramichi reported angling was very quiet with no real change in the low height and high temperatures that have been plaguing the rivers.  "We'll just have to beat our way through the "Dog-Days" and hope for a good quantity of rain and cooler temperatures" said Laws.
Flies of choice were White-tailed Green Machines along with Dry Flies and Bombers.
Syd Matchett of Trout Brook Fly Shop on the Northwest Miramichi said angling was very quiet.  The river had come up only 4 inches.  "That certainly helped, but it really did not improve conditions very much", said Matchett.
Flies of choice were small dark flies such as Shady Ladies, Smurfs, and White-tailed Green Machines.  Some of the camps further up the river were using more Bombers.
Debbie Norton of Upper Oxbow Outdoor Adventures on the Little Southwest Miramichi said the water level had come up, but the temperature was still extremely warm.  They were not doing any fishing, but like most, were hoping and waiting for a good rain and cooler temperatures.
Flies of choice were Bombers.
So pray for rain and a fair amount of it as well as cooler temperatures so we can get back "on the water".
Don't forget to show your support for our sponsors, because without them, this column would not be possible. 
The Moncton Fish & Game Association holds meetings on the first Monday of every month. Call (506) 351-0799 for info. Their Annual Fundraising Dinner will be held on November 24.
Check out Deals 4 U in Miramichi for your grocery needs, and good Cuban cigars to celebrate getting back to the rivers.
Drop in Bryant Freeman's Eskape Anglers in Riverview to stock up on streamers for spring angling as well as any other equipment you may need such as a Reddington Rod.
Miramichi City Surplus on the outskirts of Miramichi in the Lower Derby road offers a nice range of rods, reels, tackle, bait and other outdoors supplies and hunting needs.  Be sure to also bring along your recyclables.
ANY FINANCIAL CONTRIBUTATIONS TOWARD HELPING WITH THIS COLUMN ARE GREATLY APPRECIATED: Click here to donate now. A SPECIAL THANKS to all who have already made contributions.
Thought for the Week: "It is impossible to grow weary of a sport that is never the same on any two days of the year."  Theodore Gordon
E-MAIL:
Atlantic Salmon Federation News
Friday, August 10, 2012
ASF RIVERNOTES – the latest conditions, updated
~~~~~~~~~~~~~~~~~~~~~~~~~~~~~~~~~~~~~~~~~~~~~~~~
ASF's Rivernotes Blog has been updated to Aug. 9, with the latest returns and reports from rivers. Also, live release photos from Quebec and new river closures in Newfoundland. Check it out!
http://atlanticsalmonfederation.org/rivernotes/
Friday, August 10, 2012
Where do YOU stand on aquaculture?
~~~~~~~~~~~~~~~~~~~~~~~~~~~~~~~~~~~~~~~~~~~~~~~~
The Chronicle Herald in Halifax, Nova Scotia, asks where YOU stand on aquaculture, including whether you support closed-containment aquaculture, and the same for ocean-based net-pen aquaculture (they call it open-net aquaculture). Let your views be heard!
http://thechronicleherald.ca/novascotia/124759-fish-farming-the-challenge-is-to-do-it-better
The Rural Community of Upper Miramichi, Central NB Woodmen's Museum, and Conservation Council of NB are proud to present the:
2nd Annual Upper Miramichi Forest Festival
Date: August 17-August 18th
Where: Woodmen's Museum (6342 Route 8, Boiestown)
Schedule of Events
Friday, August 17th
"The Saplings" Theatre Production
Cedar Room – 7:00 pm
Seven Wonders of Upper Miramichi Announcement
Refreshments with be served.
Cedar Room – 7:45 pm
Saturday, August 18th
Professional Lumberjack Competition
Museum Grounds – 9:00 am – 4:00 pm
Admission: $5.00 each – $15.00 per family
Final Registration, Wood Draw and Preliminary Axe Throw – 9:00 – 10:30 am
Welcome & Opening – 10:45 am – 11:00 pm
Competition – 11:00 am – 4:00 pm
ORDER OF EVENTS
Stock Chainsaw – M&W
Vertical Chop –Heats 1 & 2
Bucksaw – M&W
Vertical Chop – Heats 3 & 4
Crosscut Sawing
Jack & Jill Sawing
Vertical Chop – Heats 5 & 6
Underhand Chop – All Heats
Axe Throw – Top 5 from preliminaries
Vertical Chop – Heats 7 & 8
Open Modified Saw
Vertical Chop – Heats 9 & 10
Kettle Boil – 2 Heats
4:00 Presentation of Overall Trophies
Non-Timber Forest Product & Local Vendors
Exhibition Gallery – 10:00 am – 4:00 pm
BBQ
Museum Grounds – 11:00 am – 2:00 pm
Supper – Baked Ham, Home Baked Beans, Potato Scallop
$10.00 per person – 4:00 pm – 6:00 pm
Proceeds to benefit European Travelling Teens
Lumberman's Ball Cedar Room – 9:00pm – 12:00 am 19+ Event (Cash Bar)
Band: Common Ground (Fredericton) Hits from the 60′s to 2012
Tickets: $15.00 – Casual Dress (we suggest your best plaid or flannel)
For more information, please contact at 369 -9810 or email
NOTE:  The Cumulative Counts for August 15 were not available at press time.  I will include them in the next column.
Until next week
TIGHT LINES
DOUG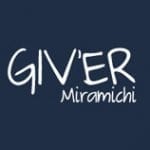 Giv'er Miramichi is about "What's up, what's new, what's happening". We are focused on building people up, supporting one another and celebrating our successes.