Miramichi Fishing Report for Thursday, May 2, 2013
Anglers continue to have decent spring salmon catches, and a recreational striped bass season for the Miramichi and the Gulf Region opened on May 1 (See below for details regarding gear and retention limits).  May 1 was also the opening of trout season in the Miramichi drainage for rivers, streams and brooks.  However, lakes ponds and reservoirs remain closed until May 15.
W. W. Doak and Sons in Doaktown said angling this week had slowed compared to last, but there were still good numbers of fish were seen jumping in the Boiestown and above areas, so angling should still be good for a while yet.  But anglers were working for the catches they had.  The water was a good level and very clear.
Flies of choice were Gray Ghosts, Renous Specials and Black Ghosts.  They recommended darker patterns as the water cleared.
Derek Munn of Ledges Inn in Doaktown and Mountain Channel in the Rapids area said angling had slowed a bit there, but anglers were averaging about four to five fish a day, with the greater number being salmon.  However, there were more grilse than last week.  Water was a good height and very clear.  A few trout in the 10-12 inch range had been hooked.
Flies of choice were Marabous and smaller patterns of the Black Ghost and some odd patterns in the clear water.
Herb Barry Sr. of Herb's Fly Shop on the Station Road in Blackville said angling was not great this week compared to last.  He described it as slow to fair with anglers averaging two to three a day.  There were also a few trout in the 10 to 12 inch size being hooked.
Flies of choice were Renous Specials, Christmas Trees, the Blue Smelt, the Silver Smelt and the Gold Smelt.  For clear water conditions, he recommended the Gray Ghost.
Curtis Miramichi River Outfitting in Blackville said anglers were still catching decent numbers with most catches being salmon.  Water conditions were a good level and very clear.  Canoeing conditions were getting close.
Flies of choice were Blue Smelts, Marabous and Green Slimes.
George Routledge of George's Fly Shop at the Mouth of Renous in Quarryville said just the odd salmon was being hooked there, but the catches were big, in the 20 plus pound range.  Some 10-12 inch trout were also being hooked.  The water level was good, but would drop off by the weekend with nice weather being forecast through the weekend.  There were no more smelts since the first run came in earlier.
Flies of choice were Blue Smelts, Renous Specials, Mickey Finns and Black Ghosts.
Jim Laws of Miramichi Hunting and Fishing in Newcastle, Miramichi reported some spring salmon being caught, but not a lot of grilse.  There were reasonably decent striped bass catches on the first day with a good number of anglers out.
Flies of choice were Renous Specials, Black Ghosts and Smelts.
Syd Matchett of Trout Brook Fly Shop on the Northwest Miramichi said angling was a lot like ;last week, with some good days and some bad.  One angler did catch his limit.  Syd and his brother were out Wednesday and saw decent numbers of fish, but they had no takers, as the water was raising and a bit dirty.  There was still snow in the woods and the run-off was making conditions iffy at best, although the actual water level was not high.  The smelts were in on the Northwest.  He had no trout reports.  Some of the salmon caught were in the 30-39 inch range, with slightly more salmon than grilse being hooked.
Flies of choice were Black Ghosts, Renous Specials and Golden Eagles.
Debbie Norton of Upper Oxbow Outdoor Adventures on the Little Southwest Miramichi was unavailable, but a spokesperson said anglers there were still catching some salmon.
So with three seasons (spring salmon, trout, and Striped bass) now open, it is time to get out and "on the water".
Striped Bass:  A big THANK YOU goes out to Mark Hambrook, Jim Laws and committee members who worked extremely hard for anglers to have a striped bass season this year.  As well, the efforts of Tilly Gordon and staff and the Honourable Keith Ashfield, Minister of Fisheries are to be commended for working for and listening anglers.  DFO also has to be acknowledged for their co-operation in the opening of a recreational striped bass angling season with a May 1 to 15 retention period, and possibly a late summer retention period as well.  People working together and listening to each other get thing accomplished.
Opening day saw reasonable catches with some anglers at Strawberry Marsh in Newcastle getting 8-10 hook-ups.  I suspect the Chatham Head/Nelson areas did as well or even better.
Wardens Tyler Augustine and Todd Davies were very co-operative with anglers, giving them a hand by explaining the rules and regulations that came into effect Wednesday.  They were even taping some anglers' rods to help them determine legal retention rates.  A great effort guys!
2013 STRIPED BASS RECREATIONAL FISHERY
SOUTHERN GULF OF ST. LAWRENCE
Moncton, NB – April 30, 2013 – Fisheries and Oceans Canada (DFO) today approved the 2013 Striped bass Conservation Harvesting Plan (CHP) for recreational fishing in the waters adjacent to the Maritime Provinces in the Southern Gulf of St. Lawrence.
The recreational fishing season will begin two hours before sunrise and end two hours after sunset of each day, from May 1 to September 30, 2013. A retention fishery will occur from May 1 to May 15, 2013.  During this period, anglers will be able to retain a maximum of one Striped bass per day and will be prohibited from possessing more than one Striped bass at any given time.
The size window for the retention fishery is established at a minimal length of 55 cm and at a maximum length of 65 cm. The length is measured in a straight line from the tip of the nose to the tip of the tail (total length).
There may be an additional period with retention from August 2 to August 11 with the possibility of an extension beyond August 11 following a review of the data collected during the initial recreational retention fishery of May 1-15.  This decision will be communicated in July.
An additional restriction on the type of hook that can be used will be in effect immediately in the Miramichi River. The use of a non-offset circular barbless hook is mandatory for anglers using bait in the following waters of the Miramichi River in New Brunswick: From the Centennial Bridge on the Miramichi River, upstream to Doyle's Brook on the Southwest Miramichi River; The waters of the Northwest Miramichi River from the confluence with the Miramichi River and the Southwest Miramichi River upstream to the Red Bank / Sunny Corner highway bridge.
The Department encourages recreational anglers in the southern Gulf of St. Lawrence to use a non-offset circular barbless hook when bait is used.  This will help to reduce the mortality of fish that have been released.
For a copy of the notice or the 2013 Striped bass conservation harvest plan, please refer to the following web link:
http://www.inter.dfo-mpo.gc.ca/Gulf/FAM/Recreational-Fisheries
Don't forget to show your support for our sponsors, because without them, this column would not be possible.
Drop in to Bryant Freeman's Eskape Anglers in Riverview to stock up on streamers for spring angling as well as any other equipment you may need such as a Redington Rod.
Providing quality gear for the outdoor enthusiast all year round, Pronature in Miramichi has you covered. Stop in to check out their rods, reels, tackle and gear.
Check out Deals 4 U in Miramichi for your grocery needs, and good Cuban cigars to celebrate getting back to the rivers.
ANY FINANCIAL CONTRIBUTIONS TOWARD HELPING WITH THIS COLUMN ARE GREATLY APPRECIATED. Click here to donate now.  A SPECIAL THANKS to all who made contributions last season.
Congratulations go out to Mark Hambrook who will receive the ASF's prestigious Happy Fraser Award for his exceptional leadership in conserving wild Atlantic salmon
From The MSA:
Hi All
MSA President Mark Hambrook will be speaking at the Union Club in Saint John on Wednesday May 8th. The tile of Mark's talk will be "Miramichi Salmon Association – Champions of Salmon Conservation"
Registration is at 11.15, with a reception on 3rd floor
Lunch starts at ~ 11.45 and will finish at 1.00
Cost – Individual – $29.95; Table of 8 – $225
If you would like to attend you NEED to make reservations at the Union Club by calling May Spavold at 634-6184 or E-mail her at " >
The maximum space is 85, so please register early.
The MSA field season gets underway this week. Today the smolt wheels are being put in on the Northwest Miramichi at Trout Brook and the mouth of the Sevogle. Our crew will start fishing them tomorrow. The trap net at Cassilis, used to recapture smolt tagged in the smolt wheels and calculate an estimate of the smolt population leaving the Northwest system, will be installed the first of next week. Both wheels and the trap are fished daily throughout the smolt run – usually ending around the first week of June. The trap net will operate a week or so longer.  For more information on the smolt project and why we moved our wheels to the Northwest Miramichi visit our site at http://www.miramichisalmon.ca/northwest-miramichi-river-smolt-study/ .
On May 5th and 6th MSA and ASF staff and volunteers will be angling for kelt in Red Bank and tagging the kelt with acoustic and satellite tags. We have been tagging kelt with acoustic tags since 2008 and this is the second year we will be using satellite tags. The purpose of this program is to understand the migration paths of kelts, from the river to the ocean and back again, and to determine what temperatures and depths kelts prefer to migrate through. If you would like to watch the tagging or help angle a kelt please contact our biologist, Alex Parker, at " >.
I would like to thank everyone that made the Ice Breaker Dinner in Boiestown on Saturday night such a success – a wonderful time was had by all!. Our next event is the Freeman Dunnett Moncton Conservation Dinner being held on Thursday May 16th at the Crowne Plaza in Moncton. For tickets please contact Jo-Anne at 506.457.2220 or myself at 506.622.4000. There are a number of 60th anniversary items being auctioned off at each dinner this year including a cedar bench and a framed Commemorative Fly. For a full list of items available at the Moncton Dinner please continue to check the website as the date draws near- http://www.miramichisalmon.ca/moncton-dinner/.
There are 12 spots remaining for the Miramichi Salmon Classic – it will run from July 14th – 17th – if you would like to register call me at 506.622.4000 or register online at http://www.miramichisalmon.ca/shop/events/.
And finally – we are expecting a variation order today following the announcement by Minister Keith Ashfield regarding the opening of a striped bass fishery in the Gulf Region. There will be a retention fishery beginning tomorrow, May 1st, running through until May 15th. A hook and release fishery will follow. Limit will be one fish per day. The size limits will be in the variation order but we expect you will be able to keep fish between 55 and 65 cm only. There is a gear restriction in the Miramichi to a single barbless hook; and we expect there will be a gear restriction for the entire gulf, if using bait, to a circle hook. DFO will be assessing the fishery to decide whether or not to open another retention period in August. Please respect the laws and the fish.
Enjoy this great Miramichi weather – projected to be sunny all week with 21 and 23 degrees Celsius on the weekend!
Nola
Atlantic Salmon Federation News
Monday, April 29, 2013
Live Release Video gains 8,107 views
~~~~~~~~~~~~~~~~~~~~~~~~~~~~~~~~~~~~~~~~~~~~~~~~
Released a week ago, the Live Release video sponsored by ASF, FQSA and the Quebec Government has had more than 8,000 views on YouTube and Vimeo in English, and on YouTube in French. If you haven't already seen it, check out this 7 min. video.
http://www.asf.ca/live-releae.html
Limited Striped Bass Fishery in Miramichi area
~~~~~~~~~~~~~~~~~~~~~~~~~~~~~~~~~~~~~~~~~~~~~~~~
DFO announced on Friday a limited STRIPED BASS fishery, from May 1 to May 15 in the southern Gulf of  St. Lawrence. This species was at a low point around 2000 and received protection, but in the past few years evidence has mounted of high population numbers – resulting in large numbers of salmon smolts being eaten. DFO will also undertake research on the Striped Bass.
http://www.asf.ca/asf-supports-opening-of-striped-bass-fishery.html
Miramichi Conservationist Receives Top Conservation Award
~~~~~~~~~~~~~~~~~~~~~~~~~~~~~~~~~~~~~~~~~~~~~~~~
Mark Hambrook is receiving ASF's prestigious Happy Fraser Award for his exceptional leadership in conserving wild Atlantic salmon. Read more
www.asf.ca/miramichi-salmon-conservationist-receives-top-award.html
Salmon Being Killed on Petitcodiac
~~~~~~~~~~~~~~~~~~~~~~~~~~~~~~~~~~~~~~~~~~~~~~~~
John Bagnall, President of the New Brunswick Salmon Council, asks all anglers to be aware of the salmon in this newly reopened river, and to support the restoration of a salmon run.
http://www.asf.ca/salmon-being-killed-on-petitcodiac-river.html
Kelly Cove Salmon Guilty of Two Charges Related to Lobster Death
~~~~~~~~~~~~~~~~~~~~~~~~~~~~~~~~~~~~~~~~~~~~~~~~
Kelly Cove Salmon, the "growout" subsidiary of Cooke Aquaculture, was found guilty of two charges of using illegal pesticides. Read more:
http://www.asf.ca/kelly-cove-salmon-pleads-guilty-to-two-charges-related-to-l.html
To examine the actual final court documents, they can be downloaded as small pdfs
http://www.asf.ca/cooke-aquaculture-pleads-guilty-on-illegal-use-of-pesticide.html
Alewife Runs Open on International St. Croix River
~~~~~~~~~~~~~~~~~~~~~~~~~~~~~~~~~~~~~~~~~~~~~~~~
After nearly 20 years of exile from their native waters, alewives are now free to migrate upstream to their traditional spawning habitat.
http://www.asf.ca/alewife-runs-open-on-international-st-croix-river.html
An Evening of Gourmet Cuisine with New York Chef Tom Valenti
~~~~~~~~~~~~~~~~~~~~~~~~~~~~~~~~~~~~~~~~~~~~~~~~
Tom Valenti is renowned for his superb interpretations of heritage foods. This time he will be working with environmentally sustainable Atlantic salmon. Read more, and get details:
http://asf.ca/join-chef-tom-valenti-and-asf-at-yale-club.html
~~~~~~~~~~~~~~~~~~~~~~~~~~~~~~~~~~~~~~~~~~~~~~~~
To keep track of breaking news on wild Atlantic salmon, use the Atlantic Salmon Federation's presence on Facebook. Log in, search for Atlantic Salmon Federation, and click "like".
Plan to attend…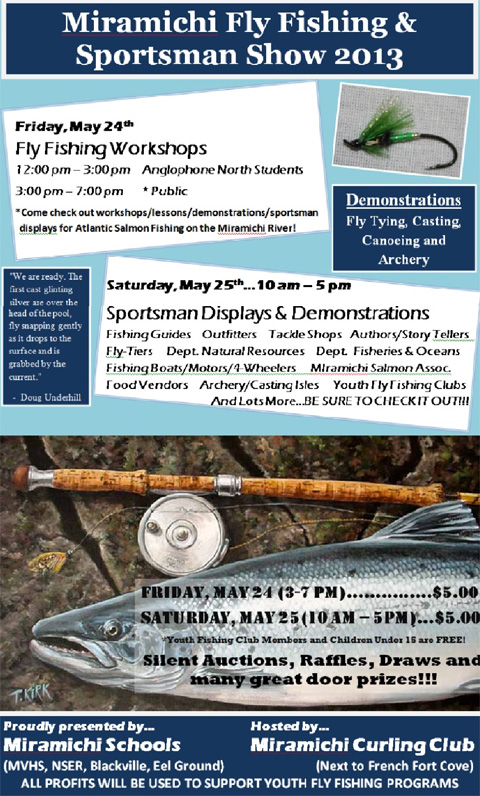 Thought for the Week: "When you feel neglected, think of the female salmon, who lays 3,000,000 eggs but no one remembers her on Mother's Day"
Sam Ewing
E-MAIL:
Hello Doug,
Wanted to send along a photo of my fishing buddy George Daneluk who caught and released this beautiful salmon on Friday April 19. It measured in the 33 inch range. Fish was caught in Blissfield, NB near Mercury Island.
Cheers,
Kim Brennan
Until next week
TIGHT LINES
DOUG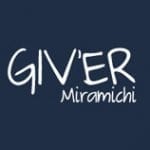 Giv'er Miramichi is about "What's up, what's new, what's happening". We are focused on building people up, supporting one another and celebrating our successes.