The Salvation Army Miramichi Needs YOUR Help this Christmas!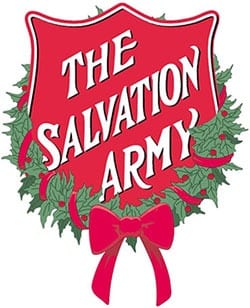 OPPORTUNITIES TO GIVE:
SPONSOR A FAMILY –  

Provide food and/or toys and gifts for Christmas.  Families will be assigned to sponsors on or after Nov 16.   Call early to register your family, group, church or workplace.
CHRISTMAS KETTLE CAMPAIGN Nov 19 – Dec 24 –   GIVE THE GIFT OF YOUR TIME –  various shifts Monday through Saturdays at several city locations.  Call Kettle Coordinator TRACY at 626-2927 to volunteer.
MAKE A DONATION –  

clothing, knitted items, food, gift card for teens, toys or monetary donations can be made at The Salvation Army Family Service Office at address below.  Make cheques payable to "The Salvation Army CRC".
FILL A SUNSHINE BAG – for men and women – NEW FULL-SIZE, UNOPENED, UNUSED toiletries – soap, shampoo, deodorant, razors, toothpaste, toothbrushes.  Cellophane bag and suggested list are available at office.
CHRISTMAS HAMPER REGISTRATION – Mon Oct 29 & Tues Oct 30 10:00am – 2:00pm – upstairs at Family Service Office.  (Singles, couples, families living in Newcastle, Douglastown, Lower Newcastle, Derby, Millerton, Sunny Corner, Halcomb, C.I. Road, Chatham Head, Nelson areas)  MUST PROVIDE:  Photo I.D. (Adults), Medicare and PROOF OF INCOME for every member in the household.  Late Registration Thurs, Nov. 1  10am – 12noon ONLY
The Salvation Army Community Resource Centre
231 Pleasant Street Miramichi, New Brunswick
E1V 1Y6
www.MiramichiSalvationArmy.ca, 
CALL 622-7826