Thanks for dropping by the Bread 'n Molasses blog. I'm Kellie, the editor.
If everyone else isn't too busy, I'm hoping they will drop by from time to time to blog here too so you won't get really bored of my ranting about the insane schedule I keep in order to get Bread 'n Molasses up every month.
And speaking of Bread 'n Molasses — Today is Deadline Day — the day we picked to have the August issue go live.
And some of it is live . . . almost all of it . . .
Okay, okay, I admit it — the entire August issue won't be available until tomorrow.
There, I've said it. What a relief! Now, I can get to work and start to finish this thing.
So, thanks for popping by. I just wanted to put a brief Hello here so you'd know we're up and blogging! Now, I'm off to finish your current issue of Bread 'n Molasses. Check back later.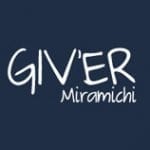 Giv'er Miramichi is about "What's up, what's new, what's happening". We are focused on building people up, supporting one another and celebrating our successes.