And we're back!
You might have noticed some posts in the Blog were AWOL most of last evening. And almost all the pictures in Bread 'n Molasses were missing in action.
It was pretty crazy.
Who am I kidding? It's still kinda crazy.
As I said before, we launched the new Mighty Miramichi site and switched servers yesterday. We couldn't get everything to work with Bread 'n Molasses and the Blog on the new server, so we switched it back and everything is fine now.
We'll switch Bread 'n Molasses over to the new server some other day when things are a little less hectic.
And by 'we' I don't mean me in any capacity!
That server stuff is way, way, way, over my head. There are true techy types who deal with all that. I just watch, shrug, scratch my head a lot and try to appear supportive.
Things over on the Mighty Miramichi site aren't entirely up to speed yet. Minor stuff really, broken links and such, but with everybody working on it, those little kinks will be ironed out in no time.
Stacy and I walked again last night at the French Fort Cove. There were a lot more people there than the night before. The trail seemed a little easier and a lot faster, considering we actually walked and didn't stop to take any pictures.
I'm a bit sore today — nothing too terrible. I would say my legs are aware they've done some sort of foreign activity.
But I'm looking forward to going at it again tonight, even though the weather seems to be conspiring against us. We're just like the U.S. Postal Service — Neither sleet, nor rain or snow . . . not sure how it goes exactly, but you get the idea.
Can you still buy those plastic rain hats? I remember my mom used to put her hair up in curlers and go everywhere with her clear plastic rain bonnet, even when it wasn't raining. It was some sort of fashion statement, maybe?
Anyway, if it rains, we'll probably skip the rain bonnets and just get a little wet, but we're definitely going walking.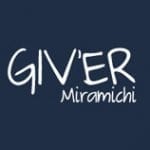 Giv'er Miramichi is about "What's up, what's new, what's happening". We are focused on building people up, supporting one another and celebrating our successes.