I'm lov'in the new office! Lots of room, nice big window, the ducks are hanging on the wall (Misty Morning Woodies Ducks Unlimited).
We've had to flourescent lights off all day but now it's getting dark outside. Had to turn on the lamp. We really feel a difference in our energy levels when the lights are on. They are so draining. David from next door (Atlis) just told me that an eye surgeon told him that overhead lighting should be avoided when working on computers. Apparently it makes you forget to blink and this is what causes eye strain.
That's your tip of the day!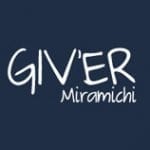 Giv'er Miramichi is about "What's up, what's new, what's happening". We are focused on building people up, supporting one another and celebrating our successes.