Here's something you might want to attend this weekend. I got this press release awhile back. Sounds like a good time!
FOR IMMEDIATE RELEASE
"Doc's Holiday"
As the opening performance draws near, the cast of St. James and St. John United Church have started rehearsing on a nightly basis. Since the beginning of October, the crew have been preparing for this family-oriented comedy, which is on stage at the United Church Center, Friday, December 5th, Saturday, December 6th, and Sunday, December 7th at 7:00 p.m.
Directed by Kimberley Shaddick ("The Christmas Post", "Miss Rose's Saloon") and produced by Cheryl Geurts, the play was written by Pat Cook. From the moment the lights come up on the livingroom of old Doc Babcock's country house, until the curtain falls, "Doc's Holiday" is a light-hearted look into a world of extraordinary people who need to rediscover their faith and be reminded of what Christmas is all about.
Cast members are Hudson Bass, Amy Buckley, Sara Buckley, Nancy Donald, Kathleen Geurts, Marvin Geurts, Bill Gunn, Krista Hansen, Shannon Mercier, Kimberley Shaddick, and David Watling.
Past performances by the group have included several Broadway-style, feature-length musicals such as "The Christmas Post", "Four Tickets To Christmas" and "I'll Be Home For Christmas". St. James and St. John United Church has been staging Worship Drama since 1997. Following the dessert theater, "Miss Rose's Saloon", presented last summer, with some of the proceeds donated to the "Beads of Hope" campaign against AIDS, "Doc's Holiday" will be the 18th presentation, for the group who repeatedly play to sold-out crowds.
Tickets may be pre-purchased for $7.00 and are available at Books Inn on the square, or from the Church office. If there are any unsold seats, they will be available at the door. Plans are underway for their 2004 Christmas musical set for December 3rd, 4th, and 5th, 2004 at the Church Center. For further information contact Janice O'Shea or Rev. Sandrabelle Rogers at the Church Center at 622-1598.
"May this be a Christmas of renewed faith – for all of us."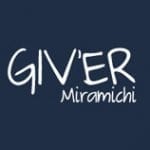 Giv'er Miramichi is about "What's up, what's new, what's happening". We are focused on building people up, supporting one another and celebrating our successes.