The Mighty Miramichi crew attended the Downtown Miramichi Business Network Annual General Meeting (AGM) in full force to hear Terry, our fearless leader, give the keynote speech on Monday evening. He did a great job!
I enjoyed the evening. I always love attending events at the Kin Centre — it's just such a great venue for meeting and mingling with super high ceilings, huge windows overlooking the garden, round tables, large bar area off the dining room, and big foyer off the dining and bar areas —classy, spacious, classic.
The evening began with the cocktail hour, of course. I got to chat with some people I don't see a lot and connect faces to others I only know through email. It's always great to hook up with people who read Bread 'n Molasses and pick their brains about what they enjoy, what we should consider dropping and what we need to cover more.
I didn't catch the guy's name, but he completed the warm ambience of the meet 'n greet portion of the AGM by playing great music on his keyboard. He was really good.
The Rodd-Miramichi catered — hot and cold buffet — and the food was fabulous! Rolls, tossed salad, potato salad, coleslaw, pasta salad, mushroom salad, pickles, beets, lasagne, rice, mashed potatoes, stuffed chicken breast, gravy, and more. Then dessert! Can you say holy cheesecake?! There were several different delectable kinds as well as a variety of pies and other cakes. Topped off with a steaming hot cup of coffee or tea, and I was in heaven. Absolutely delicious! I only wish we had the presence of mind to snap some photos, so you could see the lovely spread they laid out for us. But I was just too darn hungry to focus on anything other than getting through the line to the end of the table where the desserts were lined up.
Following the meal, the meeting got underway with the usual type of year-in-review reports and nomination of the board. Then Terry took to the microphone in a high-energy positive presentation complete with slides and music.
The topic was near to his heart and one he was uniquely qualified to speak upon, Building a Mighty Community — One Business at a Time. In typical Terry fashion, he began the presentation by stressing positives about the community through stories and anecdotes. Like the day he literally pulled over to the shoulder of the road on his way home from work to bask in the scenery of the sun setting in the sky, unable to comprehend the beauty and Miramichier's good fortune. Having lived away for almost a decade home suddenly looked different and new. It was like experiencing everything the area had to offer for the first time through the eyes of a stranger.
This is a familiar phenomenon for Miramichiers who have lived away from the river. Perhaps, it's the same for other places as well, I don't know. But it does seem that many of us are unable to appreciate what we have until we've lived something else for awhile. I know I'm one of those, couldn't wait to leave and later couldn't wait to return. From the nods and murmurs I could tell there were many in the audience who identified with that story as well.
Terry went on to thank the local business community for supporting Mighty Miramichi and helping to turn it into the success it is today. Mighty Miramichi helps our local businesses to enter the global market. People from all over the world visit the website, and some have even decided to move to the area after visiting the Mighty Miramichi because they believe the region is precisely the kind of community they want to live, work, play and raise families. Miramichiers have discovered businesses in their own backyard that they never knew existed, for some people the website has replaced the telephone directory.
Without buy-in from local business, growing a Mighty Community becomes mighty difficult. And one of the most important things Terry stressed in his speech was that it's only through working together that any of this has been possible.
INM Group recently announced they were rolling out Mighty Community's to all of Atlantic Canada, and in his presentation Terry announced that Conrad Toner had officially signed on for Mighty Grand Falls. Kent County has also expressed an interest. He continued by showing slides of the Mighty Grand Falls and Mighty Kent maps, with Miramichi clearly marked on both.
The premise is that Mighty Grand Falls will grow just as Mighty Miramichi has with support from local business in their community. And when people in Grand Falls start using their Mighty website to check out their own backyard or instead of the telephone directory, they'll see Miramichi on their map and most likely check out the Mighty Miramichi too.
And what about those people surfing in from other parts of the world? To someone living in Europe, Africa, Asia or wherever all parts of Atlantic Canada are equally as far away, equally as full of potential. The Internet levels the playing field and opens the international marketplace to rural businesses. He mentioned a couple of local businesses having great success selling their products over the Internet to customers all over the world.
Terry stressed the importance of working together and forming partnerships, business to business within our community, but also on a larger scale community to community within the region. I think this grassroots "together we are mighty" message really resonated with everyone at the event. Many in the audience appeared visibly excited that more Mighty Community's were being developed and rather than be left behind, they would have a front row seat and be able to take part in all these new opportunities.
All in all, it was a fantastic evening — Terry gave a speech he should feel very proud of, but more than that, it was a great night to represent the Mighty Miramichi and a banner night to be from the river.
As I mentioned earlier, we neglected to take pictures, but here is the only one we took with Natalie Walsh, Marketing Co-ordinator of Downtown Miramichi Business Network and Terry Matchett, president INM Group.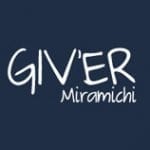 Giv'er Miramichi is about "What's up, what's new, what's happening". We are focused on building people up, supporting one another and celebrating our successes.