Thought for the Day
"Beginning today, treat everyone you meet as if they were going to be dead by midnight. Extend to them all the care, kindness and understanding you can muster, and do it with no thought of any reward. Your life will never be the same again."
— Og Mandino
THE OPTIMIST CREED
Be so strong that nothing can disturb your peace of mind.
Talk health, happiness, and prosperity to every person you meet.
Make all your friends feel there is something in them.
Look at the sunny side of everything.
Be as enthusiastic about the success of others as you are about your own.
Forget the mistakes of the past and press on to the greater achievements of the future.
Give everyone a smile.
Spend so much time improving yourself that you have no time left to criticize others.
Be too big for worry and too noble for anger.
This also came in one of my newsletters this week, and again I'm not sure of the source. If anyone knows I'd appreciate it if you would fill me in. I like this a lot, in keeping with the Mighty philosophy.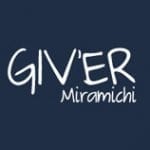 Giv'er Miramichi is about "What's up, what's new, what's happening". We are focused on building people up, supporting one another and celebrating our successes.