So, another reason why I've been so busy and neglecting my blogging duties is because ACOA came by the other week and dropped off some cash. YAY!! We love that!!
But no, I haven't been out on a shopping spree — the money was for bigger and better things than my new spring wardrobe. As a journalist though, I spent some time covering the stories to add to our overall good tourism news article and also to stand on their own. As did Stacy.
The day the wind blew ACOA our way, Stacy stopped by Flo's Hide-A-Way to hear good news for the Scottish Heritage Association's Wilson Point project.
"Okay, I just got back and it was GREAT!" Stacy wrote to me in an email. We ran the story in Bread 'n Molasses if you missed it. But Stacy also had some notes from the announcement that I saved to share with you here.
The Atlantic Canada Opportunities Agency announced an investment of $215,673 through its Strategic Community Investment Fund into the Wilson's Point project. The funds will be used for:
*Reconstruction of the first Presbyterian Church.
*The church will be an interpretative Centre with artefacts showing the way of life back then.
*The trail will be developed through the cemetery.
*Headstones will be restored.
*A monument will be built to honour William Davidson, the first Scottish settler in the Miramichi.
The chair of the Scottish Heritage Association, Frank Menzies, and the association's members were key in getting this project under way.
The Association thanked MP Charles Hubbard for his support in being a liaison between the Scots and ACOA.
Aside from boosting Tourism, they hope this development will encourage people of younger ages to get interested in their history and heritage.
140,000 people in NB have a Scottish heritage. Wilson's Point is significant not only for our Miramichi history but also for the province. Acadians used it to escape from the English 300 years ago. The oldest gravesites on the river are here, dating back to 1760's. It's of great historical significance.
Flo's staff served scones and tea. Winston Curtis, wearing his tartans, piped in the dignitaries and Kelly Whitlaw did the Highland Fling.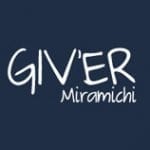 Giv'er Miramichi is about "What's up, what's new, what's happening". We are focused on building people up, supporting one another and celebrating our successes.