And now, more exciting news!! Also, something else I've been busy preparing for that has taken some of my time away from blogging.
I belong to the Writers' Federation of New Brunswick (WFNB). Every April the WFNB holds its Annual General Meeting, a weekend filled with workshops and readings and tons of literary fun!
I've only ever attended one of these and it was fantastic. Every year I promise myself that I will go to the AGM and every year something happens — I can't afford it, I can't take the time off work, blah, blah, blah. But this year I'm ready for literary companionship and I don't even have to go anywhere — The AGM is coming to me!!
Yes, Miramichi is hosting the event and we've got an awesome schedule lined up! Now, before you surf on out of here because you aren't a member or a writer, let me tell you that you don't have to be to join in on the fun.
Non-members are encouraged to come out and enjoy these events. Everything is open to the general public.
The weekend kicks off Friday, April 16th, at 5pm with a Meet 'n Greet around the fireplace at the Angler's Reel Pub in the Rodd-Miramichi River Inn. This is a great opportunity to meet some of your favourite writers, or for members who haven't seen each other in awhile to catch up or introduce themselves for the first time.
The evening really gets underway at 6pm when everyone will head out for an evening of Poetry Readings at French Fort Cove. Poets will walk the historic trail, stopping at lookouts to read. This unique event is really going to be something special that you won't want to miss. So dress warmly and don't miss out on a tour of French Fort Cove like no other, complete with historical information, music, poetry, and communing with nature.
Friday's events are free and open to anyone interested in attending.
Saturday, April 17th, gets underway with the business portion of the event. The WFNB Business Meeting with election of officers, etc. happens from 9-10:15 am. Then it's on to the first workshop of the day.
From 10:30 am to noon writers can participate in a workshop with Magie Dominic covering Life Writing/ Memoir.
Magie Dominic is a Newfoundland writer, artist and author of The Queen of Peace Room, a memoir nominated for the Judy Graham Award and Book of the Year Award by ForeWord Magazine. Her work has been published, printed, exhibited or produced in more than 100 quarterlies, books, newspapers, magazines, anthologies, theatre productions, librettos and art galleries.
Following the workshop, everyone is invited to join writers at Saddler's Cafe for lunch from Noon – 2pm.
The afternoon workshop is with Giller Prize finalist, Lisa Moore. Power of the Image runs from 2-4pm.
Lisa Moore is a graduate of the Nova Scotia College of Art and Design and columnist for the Globe and Mail. She is the author of two collections of short stories: Degrees of Nakedness, published by Mercury Press, and soon to be re-issued by House of Anansi; and Open, which was nominated for the Winterset Award as well as The Giller Prize and won the Canadian Author's Association Prize for short fiction.
A wine and cheese reception from 4:30-5:30pm at Edgewater Gallery caps off what promises to be a fantastic afternoon.
The highlight of the weekend happens Saturday evening beginning at 7pm with the Literary Competition Awards Banquet at the Rodd-Miramichi River Inn. The winners of the annual WFNB Literary Competition will be announced, presented their awards, and entertain all with a reading from their winning entries. On the menu is a choice of Miramichi Flanked Salmon, Garlic & Herb Chicken or Top Sirloin. The banquet will be followed by an old-fashioned Kitchen Party, that promises to be a toe tapping good time. I had the opportunity to attend a Kitchen Party a couple of years ago when they were first getting into this and I've been looking forward to getting out to another one ever since. It's a lot of fun!!
Before everyone packs up and says farewell for another year, there is one final event on Sunday, April 18th. From 10am-noon, everyone is invited to Brunch/ Open Readings at the Portage Restaurant. This is your opportunity to share some of your own writing or just bask in the work of so many others. This Open Mic event always delivers up a mixed bag of talent, with everything from traditional and modern poetry to fiction, personal essays and more. Everyone is invited to attend brunch and support our New Brunswick talent, whether you would like to read or just to listen.
The cost for Saturday's events is:
AGM Workshops $35 (WFNB members) $50 (non-members)

Awards Banquet $35 (WFNB members) $45 (non-members)
Membership does have its benefits including the NB ink quarterly newsletter, reduced workshop fees, networking with writers, etc. Annual WFNB Membership costs only $40/family; $30/individual; and $20 high school student.
Registration for the workshops and/ or banquet must be received by April 4th, 2004.
I'm really excited to have the WFNB coming back to Miramichi this year. I hope you'll show your support and attend some of the events. Let's show these talented New Brunswick writers and poets some of our world-famous Miramichi hospitality!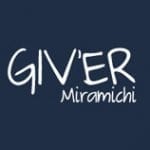 Giv'er Miramichi is about "What's up, what's new, what's happening". We are focused on building people up, supporting one another and celebrating our successes.