Stacy and I got a jump on our tourist activities of the summer and took a road trip to Moncton on the weekend.
This is a great shot of downtown on Main Street. You can see the famous Capitol Theatre on the left.
The reason for our rather spontaneous departure for the city lights of Moncton was so I could interview Magie Dominic for an upcoming article in Bread 'n Molasses and attend her reading at The Attic Owl bookstore.
We left work early Friday afternoon and checked in at the Rodd Parkhouse just after 4pm. . . yeah, we were a little late, but that was okay. They didn't have any non-smoking rooms left by the time we got there so we couldn't go straight to our room because they had to "ozone" it . . . that was also okay. Chemicals, smoke stench, we didn't care, we were just excited to be away and getting to interview Magie. We parked the car and hoofed it up Main Street looking for the bookstore.
Terry loaned Stacy a snazzy digital camera and as soon as we hooked up with Magie we lined her up for some shots.
Stacy wandered around the store snapping shots while I did the interview.
It was the easiest interview I've ever done. I never asked a single question. Magie just told me her story and in the process answered every question I had jotted down.
It seemed almost telepathic at times. I'd think of a question and look up to ask, but before I could open my mouth, she'd answer, as if she heard. It was a bit surreal.
Stacy peaked through the stacks trying to get me in the shot without my knowing. Here you can just see a bit of me listening while Magie showed me her art. Later we came back to the bookstore for her reading, and then we both bought a copy of her book, The Queen of Peace Room. It's a beautifully written true account of her time spent on a retreat with nuns. It's non-fiction life writing that reads and sounds like poetry. If you haven't read it, you really should pick up a copy.
Saturday morning we got up semi-early and headed to the Moncton Market. What a beautiful day!! The market was great. I bought a new purse and a book by a local writer.
We also had what Stacy calls, "The best breakfast ever!" Coffee, toast, 2 eggs, bacon, and fried potatoes. We could have also had sausage and ham, along with the bacon, but I couldn't even finish what I had on my plate. All this for only $2. The fried potatoes were amazing.
We walked from one end of Main Street to the other and poked in every nook and cranny. We ate everywhere. Spent way too much money. And had the best time! Nobody has more fun than us, that's for sure. We finished the weekend off by making our first stop of the season at Andrew's Fish 'n Chips in Napan. Yummy!
All signs point to a fun summer.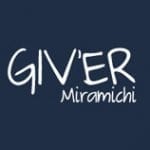 Giv'er Miramichi is about "What's up, what's new, what's happening". We are focused on building people up, supporting one another and celebrating our successes.