"Rescue our Hospital, Resuscitate our Future"
Well we survived the Great Hospital Protest of 2004, and man was it ever a protest! In case you have been in hibernation for the past few weeks, an estimated 1,200 people from the Miramichi Region put their diversity aside and shouted loud and clear (literally) at the New Brunswick Legislature for continued services and quality healthcare at the Miramichi Regional Hospital. If seeing numerous healthcare professionals and concerned citizens of the region driving to the capital city in a 7.6 kilometre convoy doesn't give you goosebumps and feelings of community belonging, nothing will! As you can see by the photo gallery on our 'Save the Hospital' page, http://hospital.mightymiramichi.com/, we had a lot of support from Fredericton, and the political community (wearing every colour but Blue) – NDP Leader, Elizabeth Weir was even dismissed from the Legislature for a day (first time in 13 years) for calling Health and Wellness Minister, Elvy Robichaud a liar regarding the "retirement" of now former Hospital CEO Jim Wolstenholme – but of course, the source told us otherwise.
Now that I have Twisted Sister's "We're Not Going to Take It" out of my head (which they played continuously for five hours), I can only wait until our next visit to the Capital, which will be in the very near future, according to Bill Fraser.
I encourage everyone to visit our Save the Hospital website.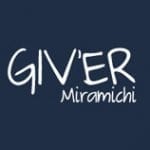 Giv'er Miramichi is about "What's up, what's new, what's happening". We are focused on building people up, supporting one another and celebrating our successes.