Saturday morning I got ready for work and headed off into the sunshine to the community of Metepenagiag First Nation, a Mi'kmaq village more commonly know to locals as Red Bank. Metepenagiag has the distinction of being the oldest village in New Brunswick.
My work was taking me to the Metepenagiag Outdoor Adventure Lodge to take pictures for their tourism binder page which we are designing at Mighty Miramichi. The tourism binders are flip-through binders, mounted on oak racks, and filled with a directory listing of Places to Stay, Things to Do, Places to Eat, etc, in the Miramichi Region. Businesses are listed in the directory for free or they can purchase a full page colored advertisement to be placed in the binder. The tourism binders are placed in 30 locations over the region…hotels, restaurants, convenience stores, etc, and are widely used by tourists and locals alike as an informational & educational tool.
I drove up the lane to find the lodge looking picture perfect against the blue sky. Inside, a group was taking the tour (NB Printers Association?) led by the ever talented Nelson Cloud, tour guide, interpreter, comedian, photographer, and overall entertainer.


The lodge is also open for group dining.
Down at the Little Southwest Miramichi River, just by the lodge there was a lot of activity! Men, women & children were all out fly-fishing for the mighty Atlantic salmon.
I soon had to leave for the office, but I had one more stop. Nelson suggested I stop at Oxbow Park where the river forms an oxbow (the bend) and the view is spectacular! This is the future location of the Metepenagiag Heritage Park that will host the archeological findings from this ancient village.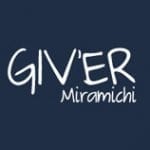 Giv'er Miramichi is about "What's up, what's new, what's happening". We are focused on building people up, supporting one another and celebrating our successes.