A few weeks ago we headed to Mighty Grand Falls country on the bike.
Sometimes you get bored on the back of a bike after a few hours, so I decided to take some pictures. You can see my reflection in the mirror. Kinda cool.
Our destination was Muniac Park, near Perth Andover which was a beautiful place to stop for a rest.
If any of you know my hon, you know he's going to love having his picture on the internet!
Muniac Park was packed! It was a sea of bikes, tents and people all weekend. The mountains made a beautiful backdrop and the weather was perfect. The organizers did an excellent job of keeping us all fed (bbq steak), watered, and entertained with live bands and competitions.
Some of the bikes were sweet!
On the way home, one of the guys we were travelling with let us stop at his house to pee (can I say pee on the blog?) and he had this big freakin pot-bellied pig! Scared me to death!
…I wish I could remember his name…Wilbur maybe?
Over & out…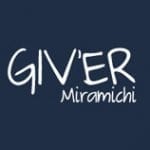 Giv'er Miramichi is about "What's up, what's new, what's happening". We are focused on building people up, supporting one another and celebrating our successes.