HAPPY BIRTHDAY MARK!




Mark, the big stud, with his balloons.



Today was Mark's birthday and he actually tried to sneak it by us!
Wasn't going to tell anybody!
But, he made the mistake of telling Kathleen who works next door at Silicon East and knowing how much the Mighty Miramichi gang loves birthday parties, she helped us plan a last minute surprise.


Stephanie (Mighty Mactaquac), Mark & Kathleen



Everyone that was available grabbed a balloon and headed for Saddlers Café on Historic Water Street. Thank you Alan & staff for accommodating us on short notice and for the excellent meals…especially the desserts… We sampled such homemade goodies as: Carrot Soup with Ginger, Chicken Enchiladas, Cajun Chicken Caesar Salad, Italian Meatball Pannini, Carrot Cake, Orange Cake with Chocolate Chips…and virgin Margaritas served in cute little plastic pails. Yummy!






Stephanie, Stacy, Terry(the captain) & Mark(the stud)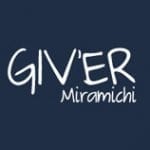 Giv'er Miramichi is about "What's up, what's new, what's happening". We are focused on building people up, supporting one another and celebrating our successes.