Off to the Farmer's Market we go…
Friday I made a stop to the
Newcastle Farmer's Market
, held weekly at the Miramichi Civic Centre from
10:00 a.m. – 2:00 p.m.
Preparing to take a few pictures and meet some new people, I was overwhelmed with the amount of things I learned, and the number of terrific folks who were glad to share the secrets of their trade.
Our primary goal here at Mighty Miramichi is simply to show people what's available in their own backyard. Well, I certainly was surprised to find out some of the home-grown products made right here on the River. I had the opportunity of meeting people like Hazel Whalen who develops her own clay jewelry, Rob McGowan of Chatham who specializes in modern and traditional scenic art – quite impressive, and Shawndra Dunn who develops beeswax candles and other unique products. The entire Civic Centre was pulsating with smiles and positive energy with a touch of Miramichi charm. I attempted to capture that feeling below with some shots from various vendors (all loved having their picture taken as you can see):



Although she is usually on the other side of the camera, I was able to take this snapshot of Helen Jones and her gorgeous bulbs.






"So many men, so little time"


One of a Kind – Uniquely Crafted Jewelry, created by Hazel Whalen






Original scenic artwork by Rob McGowan






Shawndra Dunn from Beeswax Blends






"From the Galley" – Lynn and Loisanne Gregan of Hardwicke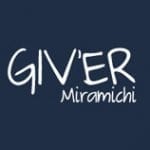 Giv'er Miramichi is about "What's up, what's new, what's happening". We are focused on building people up, supporting one another and celebrating our successes.