************************************
It's beginning to look a lot like Christmas on the Mighty Miramichi!
It seems everyone has one of two things on their minds these days. The weather, and shopping.
This year when I hear the popular question "Have your shoppin' done yet?", I'm not cringing as much…because this year I am ahead of schedule! And yes, I almost have my shopping all done. I think I've timed it just right, because the danger in getting it finished too early is that you have been instilled with the shopping bug, and once you start you can't stop. So you end up buying twice as much as was planned, and then I usually take up the overflow myself…who says you can't buy yourself Christmas presents?
Miramichi Online Coupons ****** Miramichi Salesflyer
This year I've been keeping quite busy at Mighty Miramichi, so I haven't been spending as much time at the mall. More and more customers are coming online with us each day, either by purchasing a marketing package, or having us build them a website. Isn't that fabulous!? The more we promote individual businesses, the more Miramichi will grow and prosper!
Now for the weather… yesterday was mild, then it turned into quite a blustery evening! Here are a couple of pics from the drive home, and this morning.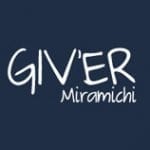 Giv'er Miramichi is about "What's up, what's new, what's happening". We are focused on building people up, supporting one another and celebrating our successes.