Miramichi Rotary Pond Hockey Tournament February 4-5-6, 2005 at French Fort Cove
Friday night action at the French Fort Cove saw teams enjoying their game under the lights.
Above normal temperatures for the evening brought out quite a few fans to support their chosen teams.
Fast paced action with two fifteen minute periods of 4 on 4 hockey, saw teams with names such as , Slabtown Slammers, Frank The Tank, Wildcards, The Mucky Ducks, Roadrunners and The Brawlers, tally more than fifty goals a game.
Saturday February 5, promises mild temperatures and lot's more action on the pond at French Fort Cove. We hope to see you there!
Play resumes Saturday at 9am so come on down, bring the kids, bring your skates, (skating will allow you faster access to all the rinks) and enjoy a day of old fashioned pond hockey fun. On The River? Giver!
Saturday saw the Rotary Pond Hockey Tournament resume with hundreds of fans enjoying the sunshine and refreshments.
Concession stands were busy throughout the day as the French Fort Cove was a bustle of activity.
Scoreboard action on Saturday was intense as teams posted amazing results.
Fredericton team entry and division winners Les Miserable Billy Reynolds, Roy Hickey, Peter Clark, Frank Leblanc
recieve congrats and Rotary Pond Hockey 2005 jerseys from Hal Raper-Miramichi Rotary. The much anticipated final game at 1:30 Sunday saw several hundred fans enjoy a close fast paced game between Les Miserable and Frank The Tank.
Frank The Tank runnerups, Terry & Brian Morris, Brian Harriman and Kevin McCarthy.
The first Miramichi Rotary Pond Hockey Tournament was a great success, hats off to all those who helped pull it together!
See you next year, as I am sure it will be even bigger and better at French Fort Cove.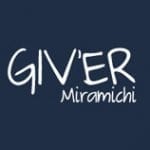 Giv'er Miramichi is about "What's up, what's new, what's happening". We are focused on building people up, supporting one another and celebrating our successes.