Sunday, August 7, 2005
Put on your thinking caps, gather three of your keenest pals and join the fun!
Solve riddles, rhymes and clues in a vehicle based scavenger hunt to a destination of
awards, prizes, food and entertainment! The rally is approximately 2 hours long.
All vehicles welcome.
Donations of $400 minimum per vehicle.
Maximum 4 participants per team.
Fund-raisers are encouraged and our student Kristen can help you.
Join now and support the improvement of quality and local health care services in the Miramichi!
Register your car now! Contact Joanne Sellars: (506)627-7555
The Mad Mad Miramichi Fun(d) Road Rally is designed to challenge participants in a fun, and safe, non-speeding, non-drinking event. Not a race!
Here are a few pictures from last year's event:
Mad, Mad Miramichi Fun(d) Road Rally is designed to challenge and entertain participants in a fun and safe, non-drinking, non-speeding event. Not a race!
The run is approximately 60 kms or two hours long.
Rally covers Miramichi city roads only, no back roads.
Randomly scheduled starts, registration at 12 noon.
Participants are given instruction sheets to follow with riddles and clues to solve, winners are judged on a point system, not a time factor.
Awards and prizes given to winners at final destination with celebrations of games, food and entertainment.
A minimum fundraising donation of $400 per vehicle/maximum four people. Sorry, no children permitted. Team fund raising projects are encouraged. Visa & Mastercard accepted.
All vehicles welcome including family cars, classic cars, company cars, vintage cars, motorcycles…..all team vehicles will be identified.
Sponsorship: Gold $500 +
Silver $400
Bronze $100
Trophies and Prizes awarded for ◊ Top Place Rally Winners ◊ Most Creative Team Name ◊ Most Money Raised ◊ and various other categories.
Your participation will assist the Miramichi Regional Hospital Foundation in its efforts to provide local and quality health care services in the Miramichi area. All dollars raised remain local!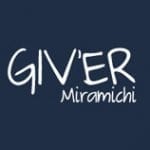 Giv'er Miramichi is about "What's up, what's new, what's happening". We are focused on building people up, supporting one another and celebrating our successes.