Darlene's Tea House and Family Restaurant
There's nothing like the smell of toasted homemade brown bread (with raisins) to put you in a good mood.
I dropped into one of my most favourite places this morning, Darlene's Tea House & Family Restaurant. After much demand from customers and friends, Darlene has opened her restaurant once again. www.DarlenesTeaHouse.com
This morning she was baking lasagna and mixing up garlic butter for garlic bread. I didn't want to leave.
I think it is the desserts I've missed the most…the cinnamon buns with cream cheese sauce, gingerbread cake with rum-raisin sauce… and the list goes on.
She has only been re-opened since Sept. 17 but already the response has been overwhelming. Old customers are calling to see the news of her opening is really true, her reservation book has come to life again and groups are already booking their Christmas parties. Since I live close to the TeaHouse in Blackville, and work in Miramichi, I've even had requests from people in Miramichi asking me to deliver breakfast to them
Hmm…maybe I could start taking orders… rent a little van…

Photo Courtesy of Miramichi Leader/Weekend. (Carol Morris photo.)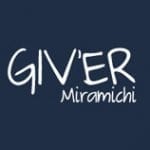 Giv'er Miramichi is about "What's up, what's new, what's happening". We are focused on building people up, supporting one another and celebrating our successes.