Miramichi Healthy Living Expo
James M. Hill School October 14th & 15th, 2005

It's All Here!! See over 30 exhibits, meet merchants, attend seminars, and speak with knowledgeable leaders, guest speakers, and fitness challenges.
There will be approximately 60 seminars that will provide information on physical health, nutritional health, and emotional health.
The Miramichi Healthy Living Expo is a partnership with the City of Miramichi, City Merchants, Health Services and the Province of NB Culture and Sport Secretariat. This special event will have free admission and will focus on health, fitness, safety and well being.
Guest Speaker: Friday, October 14th at the James M. Hill Theatre at 7:00pmBarb Ramsay, HEPAC Administrator will speak on working collaboratively to promote healthy eating and physical activity in New Brunswick.
Exhibits:
October 14th, 2005 – 6:00-9:00 (Lobby Area)
October 15th, 2005 – 9:00-4:00pm (Lobby Area)


Seminars:
Friday: 6:00-6:30
Saturday: 9:00-4:00pm
Click here to download the schedule of seminars (Excel document)
Note: Seminar times and topics will be posted on Oct.13/05. For additional information call David Sisk at the City Recreation Department 623-2301 or Brett Redden at 627-9091.
"FREE ADMISSION"
Let's make the Miramichi a place where health is a way of life and wellness is a way of living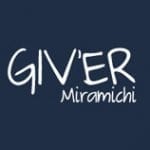 Giv'er Miramichi is about "What's up, what's new, what's happening". We are focused on building people up, supporting one another and celebrating our successes.