St. James and St. John United Church's Annual Christmas Musical
Rehearsals are underway for St. James and St. John United Church's annual Christmas musical. The dates are set, the characters cast, and rehearsals have been underway since the first of September for the Christmas musical theatre production at the United Church Centre.
Saturday, December 3rd and Sunday, December 4th are performance dates for The Valley Haven Christmas Show, a dramatised Christmas story written by Paul McCusker. Both performances begin at 7:00 p.m.

The Valley Haven Christmas Show is a touching one-act play chronicling the dreams, loneliness, and uplifting faith of a group of elderly people who wait for visitors on Christmas Eve. This musical is a warm, realistic comedy that incorporates several poignant stories intertwined with beautiful music selections, a few featured by the Malaika Women's Choir.
Directed by Kimberley Shaddick and produced by Cheryl Bond, The Valley Haven Christmas Show is the 21st performance from this talented troupe.
Cast members include Diane Forrest, Kimberley Shaddick, Willard MacKay, Kathy Buckley, David Watling, Diane Donovan, Nancy Donald, Joey Baisley, Rev. David Tuck, Shannon Mercier, Beth Wilson, Gwen Baisley, Ellen MacKay, Manford Wasson, and Rose Theriault. There are a host of other volunteers who work behind the scenes as the production crew managing light, sound design, set construction, costumes and props.
The price of admission is $7 and tickets are available at the church office or at Books Inn on the square in Newcastle.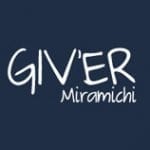 Giv'er Miramichi is about "What's up, what's new, what's happening". We are focused on building people up, supporting one another and celebrating our successes.