The Heart and Stroke Foundation of New Brunswick invites the good people of Miramichi to join thousands of volunteers across the province working on the February Person-to-Person Campaign.
"It's February and by that time we are all anxious to get out. So, this is a perfect opportunity to knock on your neighbours' door, say 'Hello!' and share a bit of warmth and good will. All that for a good cause too," says Connie Doak, Miramichi Area Co-ordinator.
The Foundation needs volunteer canvassers as well as team captains. "It takes only about four hours," says Connie. "You can help with canvassing your street, or delivering and picking up packages in your neighbourhood."
To volunteer for the Heart and stroke Foundation call Connie at 622-8660. To get more information about the foundation please visit Heart and stroke Foundation website at www.heartandstroke.ca or call us at 1-800-663-3600.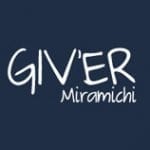 Giv'er Miramichi is about "What's up, what's new, what's happening". We are focused on building people up, supporting one another and celebrating our successes.