Mango's New Initiative Partners With Area Eating Establishments
Making healthy choices when you dine out at a restaurant is sometimes difficult. The Miramichi Regional Health Authority's Mango program is now making it easier with its new restaurant program, Eat Well! Mangez Bien!
Beginning April 25, when you dine at participating area restaurants and take-outs in and around Miramichi, look for the Eat Well! Mangez Bien! symbol on their menu. This will help customers find the healthier options.
The symbol beside selections on the menu will tell customers that it is a healthy meal choice. Restaurants who are members of the program were required to meet certain nutritional criteria for each menu selection. For example, Mango dieticians worked with the restaurants determining reasonable serving sizes, low-fat cooking methods, amount of whole-grains offered, and if options included foods from the vegetable and fruit groups.
"It is a benefit to the community as it identifies healthy choices at participating restaurants. As well, the healthy menu options are highlighted easily for customers to recognize," says Mango dietician Renée Frenette.
All restaurants in the region were invited to join the program. Thirty-six restaurants have taken advantage of the partnership. By joining this program, these restaurants will be recognized as a healthy place to eat and will meet the demands of their customers who are challenging eating establishments to give them the healthy food they need to lead a healthy lifestyle, she adds.
The launch date of the program is April 25 and the Eat Well! Mangez Bien! Restaurant Program will be kicked off at the Goodie Shop at 11am. Mango welcomes all restaurants who are partnering to help them attain their goal of making the population of Region 7 healthier.
Congratulations to Angler's Reel, Blackville Trio Pizza, Brookside (Neguac), Burke's Diner (Blackville), Burger King, Captain Sub/ Greco (Neguac), Chez Bauer Sub Shop (Rogersville), Chez Doris (Rogersville), Chuckwag'n (Chatham), Chuckwag'n (Newcastle), Darlene's Tea House (Blackville), Decker Boy (Rogersville), Ed's Subs (Chatham), Ed's Sub (Newcastle), Goodie Shop, Jungle Jim's, KD's Pick of the Vine, Le Gallant (Rogersville), Lucy's Truck Stop (Neguac) McDonalds, Pizza Delight (Chatham), Pizza Delight (Newcastle), Pizza Shack (Chatham), Pizza Shack (Newcastle), Pizza Twice (Douglastown), Saddler's Café, Subway (all five locations), Super Deckerboy (Baie Ste. Anne), The Tide, The Wharf Restaurant and View Point Dining Room.
Any restaurants looking for more information, can call 623-3555.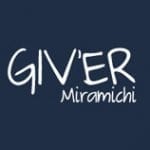 Giv'er Miramichi is about "What's up, what's new, what's happening". We are focused on building people up, supporting one another and celebrating our successes.